Do You Need a Wide Format Laser Printer for Your Small Business?
Posted on February 25, 2022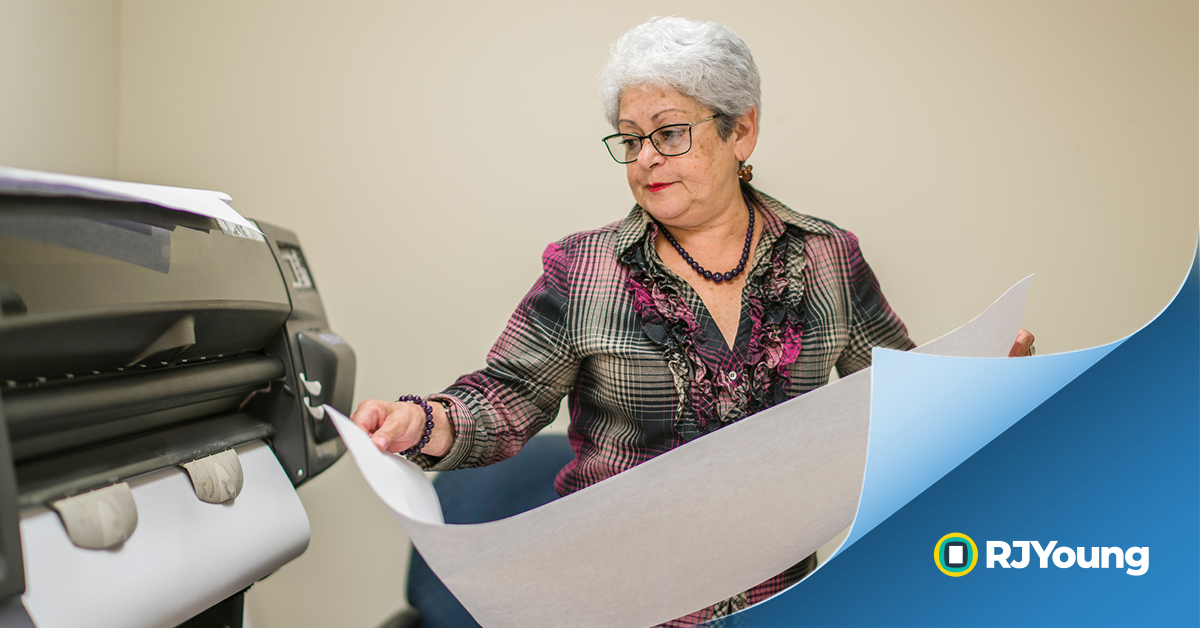 Of all the office processes that businesses from all industries rely on, printing may be the most popular.
Whether we're in the office or the administrative areas of restaurants, stores, or warehouses, we depend on our printers almost daily. But not all print jobs are created equal.
Some printing needs go beyond the scope of printers made simply for 8.5 x 11 standards. What about posters, flyers, blueprints, schematics, diagrams, banners, and other types of print media besides what we're used to?
In these instances, wide format printers are the answer. This unique type of print technology lends itself well to a variety of fields – and while we may assume that only large companies need them, the truth is that a small business can also benefit from a wide format laser printer.
What Exactly Can a Wide Format Printer Do for You?
When most of us think about printing, we picture business data, contracts, and other standard business information on regular sheets of paper. But print technology goes far beyond these traditional standards.
With a wide format laser printer, you can print on larger sheets of paper, making it easy for you to create a variety of print media that's impossible in a standard printer. Our wide format printers offer flexible paper options including 11 x 17, 13 x 19, and up to 60 inches in width.
But wide format print technology offers you more than just greater dimensions in your printing processes. You can also print on different materials, including vinyl, wood, metal, canvas, and glass.
Print Technology Helps Immensely in Our Visual Age
Though printing is often reserved for words and sentences, businesses can be more creative in their communications with the right print technology.
We live in an increasingly visual time, and visuals are proven to help businesses communicate more efficiently.
Whether you're conveying complex data spreadsheets in helpful graphs, showing off brand images to make your company memorable, or displaying signage to attract people's attention, the right wide format printer can make all the difference.
Which Industries Benefit Most from Wide Format Print Technology?
While a wide format printer can be useful in virtually any business, there are several industries that may derive more benefits from having a wide format printer.
Architects, engineers, and construction professionals are constantly crafting blueprints, site plans, schematics, and other complex diagrams consisting of both text and visuals. Wide format printers allow them to create these unique forms of media in stunning detail for better project management results.
Don't forget marketers, advertisers, and design professionals. From stylish posters to help with promotional efforts to customized apparel, wide format printers open you up to a wide variety of media that can improve your productivity.
Even government agencies and manufacturers can get in on the wide format action, creating all manner of safety charts and compliance signage for their workplaces. We also offer finishing equipment like laminators, shrink wrappers, cutters, binders, and more.
Why Should a Small Business Invest in a Wide Format Printer?
It's easy to look at the wide capabilities of wide format printers and assume that only big businesses can benefit from them. However, the right print technology can put a smaller business on par with its large competitors.
An SMB can only grow by standing out. The best way to stand out is to create quality content and to attract attention that you can keep. The crisp and consistent detail offered by wide format printers, combined with their versatile nature, makes them a proven tool for breeding innovation and growth.
Companies can show off their commitment to quality and their unique side when they have the right technology to support them.
Need a Wide Format Printer of Your Very Own? Contact Us
Your SMB could be on the fast track to expansion once you upgrade your print technology.
Not only is it easier to sway investors, catch the attention of customers, and improve your facility when you have a wide format printer, but it can also help you save money.
Going to the print shop every time you need something done can be time-consuming and expensive – not to mention it could provide inconsistent results.
Getting your own in-house wide format laser printer puts the most versatile print technology on the market at your fingertips, offering near-limitless potential for what you can achieve. Ready to get your very own?
When you need a wide format laser printer, call on RJ Young. You'll enjoy wireless connectivity, high-quality resolutions, and print/copy/scan functionality all in a single unit. Come learn more about our units from Canon, Contex, Ricoh, and more when you contact us today.