What's The Best Wide Format Printer for Architecture Pros?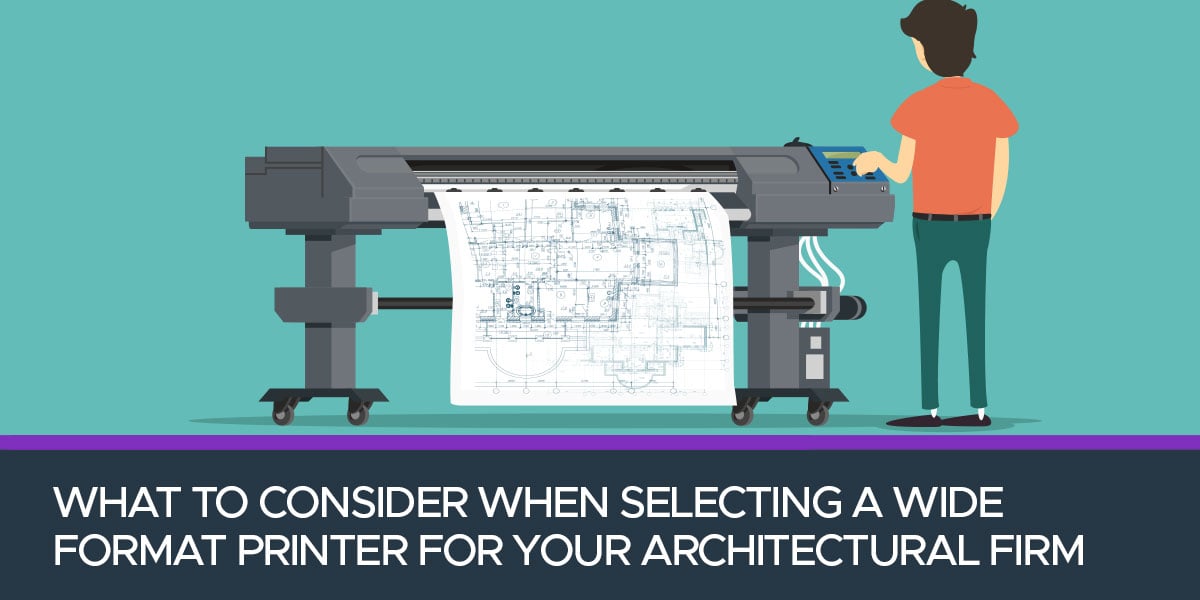 Choosing the best wide format printer for architecture is no easy task. Architectural firms need top-performing specialized equipment to achieve the crystalline level of detail required for blueprints, charts, and other highly technical documents. Complicating the challenge is the fact that many of these documents are printed on sheet sizes larger than what the standard professional printer can handle.
Therefore, architectural firms turn to wide format printers to meet these needs. Not only are these printers specialized, but they open the door to many more capabilities than the average printer. Here are a few things to consider when narrowing down the choice of best wide format printer for architecture.
1. Detail and Precision
Wide format printers are able to print in immaculate detail and stunning resolution. Such presentation is not merely to impress — blueprints require flawless legibility to guide builders and engineers. In other words, smudges or low-resolution — which may cause blurred lines — create costly delays or mistakes which may ruin a project entirely. At RJ Young, our team of technicians and support staff are always there to ensure optimum performance from your device each and every time.
2. Speed and Efficiency
Many printers can produce photographic-quality color printing, but it takes time. In addition, architectural firms often operate under demanding, time-sensitive conditions which require high speed and high-quality printing to keep the office workflow smooth. Some projects need multiple copies, which can lead to frustration if each takes a significant amount of time to print.
3. Imaging Technology
Architectural firms may wish to choose from a range of imaging technologies according to the type of projects most frequently printed. A wide format printer with fewer frills, gets the job done efficiently and professionally. However, firms that need to produce high-end displays and presentations may look for more advanced imaging technology. Such technology delivers superior half hones, ultra-smooth gradients, and even the ability to print in spectacular colors without hampering efficiency.
4. The Cost of Consumables and Maintenance
High-end may also mean a high price tag on consumables such as ink, paper, spare parts, and even maintenance. This becomes even truer as materials or parts become more specialized. However, this cost can be balanced by understanding the type of printing which the firm mostly undertakes. Selecting a wide format printer, which provides the features needed without going over the top, helps to balance professionalism and price to keep the firm competitive.
5. Network Capabilities
Modern office technology is built to integrate with an organization's workflow, and that includes architectural firms. Workflow increasingly relies on cloud and network connectivity to allow documents to flow from one device to the next seamlessly. Therefore, a wide format printer with Wi-Fi capabilities can be operated across many devices or web-based applications allowing users to design and print from one consolidated station.
6. Printing Volume
Printing volume varies from firm to firm according to size and specialty. An architectural firm with a demanding print environment will benefit from a different class of printers than a small firm which only prints a few, high-quality charts each month. In other words, a smaller firm may find it beneficial to invest in a device with more specialized capabilities, while a larger firm that needs to print more, may appreciate a more efficient workhorse.
7. Ease of Use and Reliability
A robust printing system is only useful if the user knows how to use it, and it can be guaranteed to work when it is needed. As with any piece of office equipment, the best wide format printer for architecture is powerful enough to produce the required print quality in a timely fashion. In addition, it also needs to be accessible enough that users do not get bogged down with a learning curve or get stuck fiddling with advanced settings which aren't fully understood. With RJ Young, users never need to worry about that. We have a team of training and onboarding specialists who are dedicated to ensuring the user is familiar and comfortable with their device.
8. Versatility
Printing blueprints may be a critical business function for an architectural firm, but it is not the only thing this business will print. It is worth it to track printing habits prior to investing in a new printer to get a better sense of the types of paper sizes, stock weights, inks, and custom settings that are most frequently used.
A firm may need to print other business documents. A wide format printer that can also handle regular paper sizes will prove invaluable in these circumstances.
Choosing the Best Wide Format Printer for Architecture
Architects have specialized needs when it comes to printing, which makes the selection of an appropriate printer beyond vital. Wide format printers can meet many of these needs with their ability to handle larger paper sizes and unblemished detail. These eight considerations serve as a starting point for the many things which a firm must consider when choosing the best wide format printer for architecture.
RJ Young works with architects and engineers regularly to provide custom hardware and software solutions for their printing needs. Read about the common printing and document problems these firms face and the solutions we provide.
At RJ Young we offer a full range of wide format printers, copiers, and scanners – from industry leaders like Oce, Canon, HP, Mimaki, Ricoh, and Contex. Contact us to speak with an expert product advisor who can help you narrow down your options and select the perfect device for your needs.