What is the Best Small Business Phone System in a Post-COVID Economy?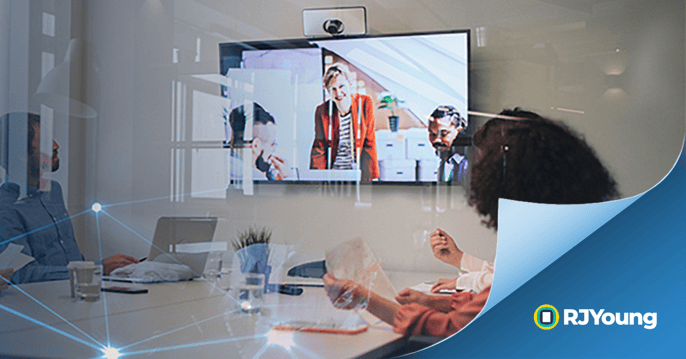 As the pandemic continues to affect the way businesses operate, more organizations are looking for ways to maximize productivity while keeping a close eye on expenditures.
Businesses are examining their bottom lines, looking for ways to tackle increasing pressure to "lean out" their infrastructure and reconfigure business processes to target productivity, efficiency, and — importantly — flexibility.
One of the main drivers is the need for flexible communications abilities as more companies operate under a work-from-home or hybrid work environment.
With the hub of much business communication firmly centered around the business phone system, rethinking the way you approach your phone communications is an important first step toward better, faster, more efficient communications.
Cloud-Based Phone Systems: A Better Way to Communicate
Until recently, many companies were mired by traditional or legacy phone systems with their associated high costs of hardware and maintenance.
With a legacy system, your phone was only one piece of the communication puzzle — for video conferencing, messaging, email, and other solutions, you had to turn to other technologies making it difficult to coordinate and manage all the systems.
Enter cloud-based phone systems – one of the best small business phone system choices due to the large number of advantages they offer for the small- and medium-sized business (SMB).
Improved Communication and Productivity
Cloud-based phone systems bring all the communication tools you use — email, instant messaging, video conferencing, and even live chat — into one intuitive platform.
With communication embedded in your widely used business application, your teams can streamline workflows and maximize productivity for even greater benefits.
Reduced Management
Legacy phone systems can be difficult to install, maintain, and troubleshoot.
Cloud-based systems feature quick and easy setup and ongoing maintenance programs to ensure they stay operable and reliable. Updates and integrations are intuitive, requiring no special training and no extra implementation costs.
Effortless Scalability and Reliability
With a cloud-based phone system, paying for line-by-line service is a thing of the past. Employee access can be added — or deactivated — easily, allowing the system to scale up or down according to your needs.
And, in the event of a power outage where desk-based phones are unavailable, your business still has full-service communications ability through a mobile application to keep you connected with colleagues and customers.
Multiple data centers located in geographically diverse areas offer redundancy and additional reliability while ongoing VoIP network testing ensures you have clear voice quality and a clear connection when you need it.
Let RJ Young Help You Determine the Best Small Business Phone System for Your Needs
"At RJ Young, we are always looking for ways to help our clients optimize their business processes. Our cloud-based phone system is one example of leading-edge technology that can actually help you save money while keeping your business productive and maximizing efficiency," said Ben Carmichael, Sales Manager in Hattiesburg, MS.
Our system features easy-to-use interfaces and productivity features that provide seamless access to powerful voice, video conferencing, chat and other features that can dovetail with the business applications you and your team use every day, such as Microsoft, Salesforce, Google, and more.
Not only do you have the advantage of plug-and-play desktop phones, but a desktop application that corrals all your collaborative tools in one convenient place to allow employees a quick and easy way to share screens and files, video chat, and even place and receive calls.
Finally, our system provides a host of features to make daily phone-based communications simpler, such as:
Voicemail with transcription
Call flip, forward, hold, recording, history, transfer, waiting
Conference bridge
Auto attendant
Caller ID
Custom hold and greetings
Email and SMS notification
Of course, these are just a sample of the many features inherent in our simple to deploy system, all of which can be tailored to meet the needs of your specific department, location, or operation.
Bring the power of a cloud-based business phone system home to your organization today. Touch base with an RJ Young consultant and discover how simple it is to get started on your way to better, faster, more reliable communications.