What Should a Wide Format Printer Cost?
Posted on September 19, 2022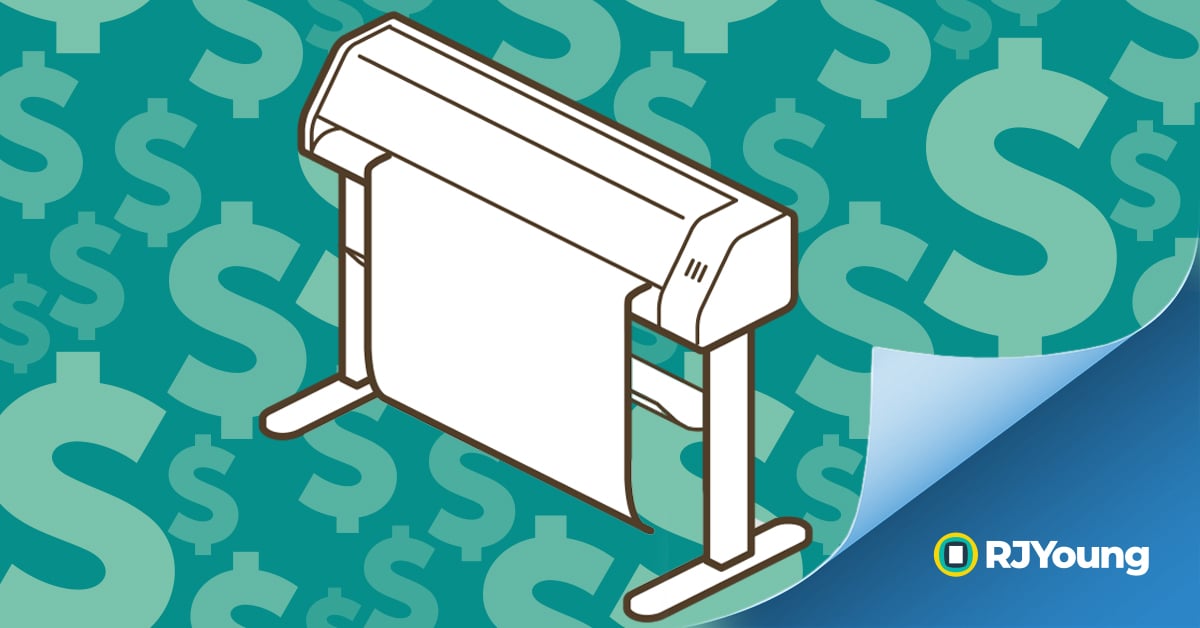 Well, you've just about had it running to the print shop for every little poster that you need to print. It's time to bite the bullet and purchase a wide format printer finally. The question is, which one and how much should you expect to spend?
While we're not going to go into specific prices for specific products in this article, because those prices can change, we will give you a rough idea of the wide print market.
So How Much Does a Wide Format Printer Cost?
How much does a wide format printer cost?
It depends.
A low-end, at-home wide format printer can run as low as a few hundred bucks. If you're super lucky, you might even find one on sale for $99. However, some of these types of wide format printers are using the name "wide format" a little loosely.
They might be able to print on slightly wider paper than a traditional inkjet printer. But, they aren't necessarily going to be the workhorse that a thriving business needs for very large-scale projects.
On the high end, the best wide format printers can cost anywhere between $10,000 and $20,000. While this price might seem to be high to some, it's actually quite cost-effective if you were otherwise spending that amount on outside printing on a regular basis.
Considerations When Selecting a Wide Format Printer to Purchase
Getting a wide format printer can potentially be an investment, but usually, if you have planned properly, you will soon recoup any costs for the printer. But it really depends on what type of printer your organization gets and how much you use it.
Wide format printers come in various models, sizes, and features. As mentioned, low-end wide format printers are quite affordable and can easily fit into the budget of a solopreneur working from home. But for larger organizations, a cost-benefit analysis is a wise way to approach the purchase of a wide format printer. For example:
Do you run an architecture firm that regularly prints large site plans and blueprints? In the past, you've gone out to a print shop for these, but the print shop is getting more expensive, especially as paper costs are rising. Then there's also the cost of the gas and the transportation time that is wasted when you go to the shop to get things printed. A wide format printer that can handle your blueprints easily and quickly would be an especially good investment for a small but growing architecture firm.
On the other hand, what if you have a small business hosts a yearly charity gala that you advertise in the local community? The charity gala has two main goals, one of course to raise funds but two to also set your business apart as a leader in the community. As part of organizing, you might need to print programs, posters, banners, and direct mail pieces to market the gala.
The question is, does the cost of getting these printed out of house equal enough money that it might be cheaper to buy a wide format printer that you would use year after year?
You would have to look at your budget and also assess the different printer models to determine what the break-even point might be.
Since wide format printers come in different sizes and technologies, you'll also want to write down the needs versus the must-haves. Perhaps you need to have a printer that prints up to 60 inches. Or, maybe you need a printer that can work with different types of materials such as wood and plastics.
A smaller business that only needs to be able to print a slightly larger than average size poster, but doesn't need to print on glass, can typically get a less expensive wide format printer model.
Consider Managed Print Services as Another Solution
Another way to get the benefits of an on-site wide format printer is through leasing or using Managed Print Services (MPS), which includes the leasing of equipment as well as the maintenance and monitoring.
RJ Young is a Managed Print Services provider that can work with your business to set up the right printing equipment for your needs, maintain that equipment, and keep it upgraded or even replace it as needed. All for a regular monthly cost. Instead of putting $20,000 upfront for a printer, you would be paying an affordable monthly fee for on-site printer access as well as all the service needed to keep it running.
RJ Young partners with the best companies in the industry, including:
Canon
Contex
HP®
MimakiTM
Océ
Ricoh
Sharp
No matter what your needs, we can help you in finding the right wide format printing solution for your budget.
Considering a wide format printer for your business or organization? RJ Young can help. Contact us today at 800-347-1955 to get help from one of our printing experts.