What Can You do With a Large Format Plotter Printer?
Posted on December 26, 2022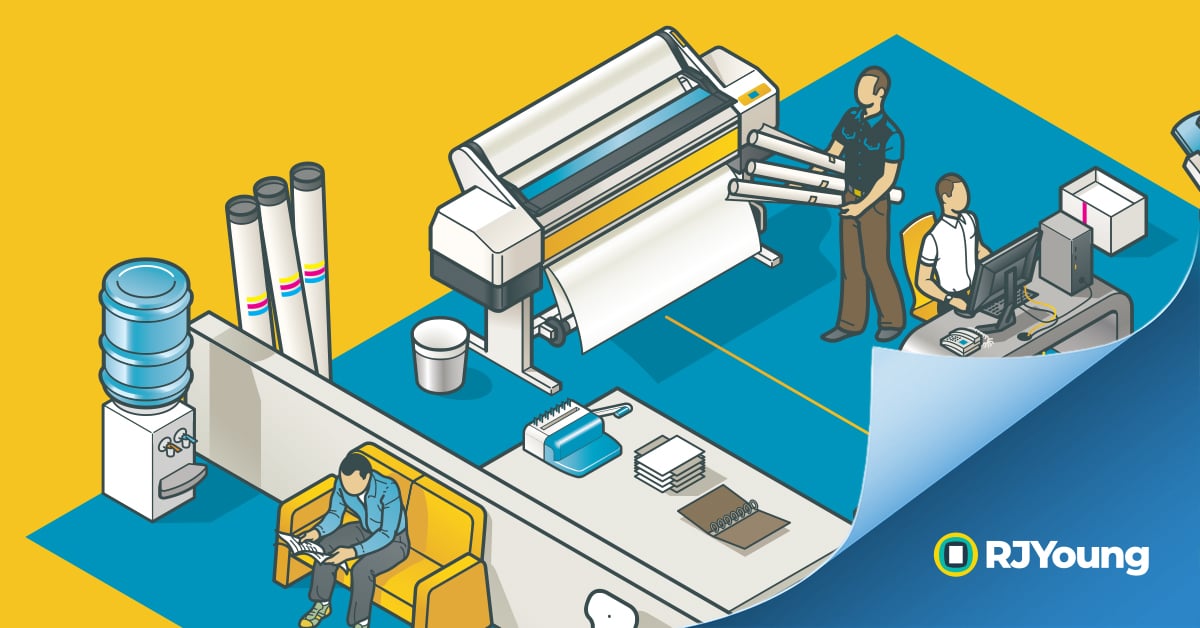 Until the day comes when we have holographic blueprints and other advanced visualization technologies, we will still need printers. Wouldn't your organization like to be able to print precise documents on oversized paper and other mediums in-house? You can with a large format plotter printer aka a wide format printer.
What Is a Wide Format or Large Format Plotter Printer?
Technically, a plotter printer is a special kind of printer technology. With traditional plotter printers, a special mechanical pen or marker would draw the lines to render computer-aided designs (CAD), blueprints, or other schematics. Large plotter printers can print on larger pieces of paper than standard office printers.
These days, the "plotter printer" that is most desired is the modern wide format printer, which offers the precision printing of an old-school plotter printer and the convenience of modern printing technology.
Now, technically speaking, not all plotter printers are large or "wide format," since some are definitely on the smaller side. And not all wide format printers share the precision of plotter printers. But our commercial grade wide format printers function as plotter printers.
Wide format printers are highly valued in obvious industries such as architecture, engineering, and construction, but they are also very useful for other industries and fields, from education to healthcare.
Why Get a Wide Format or Large Format Plotter Printer?
Here are some reasons why your organization should consider getting your own wide format or large format plotter printer:
Print On Larger Paper and Other Mediums
Wide format printers have the basic benefit of being able to print on larger paper sizes. Many advanced wide format printers can also print on alternative mediums such as wood, glass, plastic, vehicle wraps, and even metals.
Precise Details With Ultra High Resolution
Today's modern wide format printer offers extremely sharp detail with amazing resolution. This high-quality printing is invaluable for engineering schematics, building blueprints, and anything requiring intricacy and precision. These modern printers are also highly accurate and can print duplicate copies without variability or error.
Big Prints With Smaller Footprints
Today's wide format printers can print on large paper without having a big, massive footprint. This makes your office able to handle in-house print jobs without the printer taking up a huge amount of space.
The Flexibility to Print What You Want, Easily
Advanced plotter printers of the wide format variety can offer additional features such as finishing equipment featuring dye cutters, binders, staplers, shrink wrapping, laminators, and more...while printing on everything from vinyl to wood. Some machines can handle the cutting of paper for you, without your team having to monitor the print job all the time.
Uses for a Wide Format or Large Format Plotter Printer
Of course, wide format printers are ideal for CAD designers, schematics, blueprints, detailed plans, and photographs.
Beyond engineering and architecture, wide format printers are excellent tools for marketing and branding. Your organization can print posters, large banners, display media, and many other vibrant signs and branded prints.
For example, hospitals can use wide format printers to make signage to help direct patients to the right areas or follow certain instructions.
Artists can even use wide format printers as a way to print their work, from photographs to large-scale art prints.
Could Your Business Benefit From a Wide Format or Large Format Plotter Printer?
If it's time to upgrade to a modern plotter printer / wide format printer, RJ Young can help. We partner with the top printing equipment companies in the industry delivering pristine wide format printing and scanning. Our valued partners include Canon, Contex, HP®, Mimaki™, Océ, and Ricoh. We offer a variety of printers that can handle a variety of paper sizes, from the standard wide format paper size of 11×17 and 13×19, up to 60 inches wide with some of our advanced machines.
Interested in a high-quality large format plotter printer for your business or organization? RJ Young has a full line of modern wide format printers for almost any project. Contact us today at 800-347-1955 to get help from one of our printing experts.