US-China Trade War: How the Tariffs Will Impact the Price of Promotional Items with Logos
Posted on August 12, 2019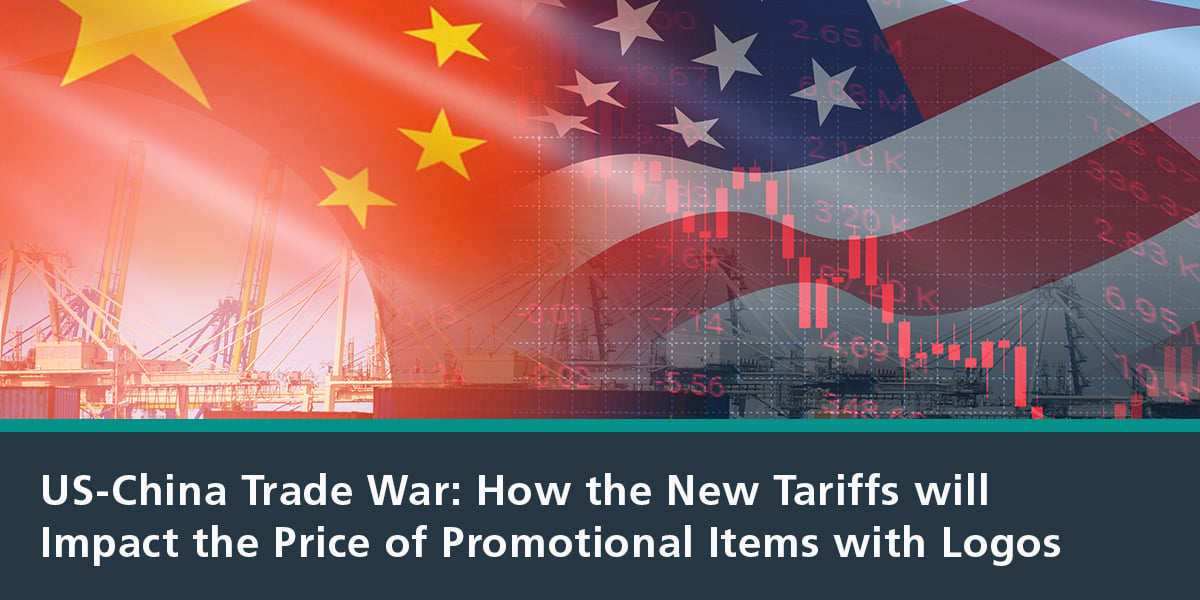 The United States has leveraged tariffs against Chinese imports in a bid to offset the trade deficit. Many sectors of the American economy – from seafood to retail – will feel the effects of higher prices, more scarcity, and a rush to find new sources. Promotional items with logos are just one of the industries which will feel the effects of tariffs. Below outlines all you need to know on the US-China Trade War and how the tariffs will impact the price of promotional items with logo.
The United States imports almost $560 billion worth of goods from China every year while exporting just a fraction of that amount. Since the end of last year, Americans have watched a trade war break out between the two largest powers in the world as the United States has attempted to change this.
With import tariffs in excess of 25 percent, Americans should expect to see higher prices for certain items. However, here is what it means for American businesses which rely on imported goods from China either to resell or for their marketing efforts, including promotional items.
How the Promo Item Industry Is Being Affected
It is no secret that many items are manufactured in and exported from China. According to the US Department of Commerce, most Chinese imports occur in the electronics, machinery, and furniture industries. Consumer goods account for a significantly smaller portion of these imported goods.
Nonetheless, the trade war has shed light on the fact that most promotional items with logos are sourced in China, while few alternative sources are available. May's new round of tariffs against Chinese imports affects nearly every promotional item across the board.
The promo item industry expects a general increase in prices for items sourced from China. For example, a pack of 12 stress balls might have previously been $2.66. With the tariffs in place, a 25 percent increase could raise this wholesale price to as much as $3.32 for that same pack.
What Items Are Included?
The latest rounds of tariff increases target some 5,000 items – everything from light bulbs to vodka and baby strollers. Among these include items that are more popular promotional items:
Ballpoint pens
Drinking and glassware products
Pen and pencil holders
Bags and totes
Expected Changes in the Industry
It is too early to tell how much the new tariffs will change the promo item industry. RJ Young is actively collecting information from suppliers and partner manufacturers. What is known:
Prices will fluctuate as tariffs are imposed, removed, and enforced. Both manufacturers and suppliers are dedicated to maintaining price stability as much as possible to avoid sudden and significant price hikes.
Both manufacturers and customers are interested in seeking alternative items, which may influence which promotional items with logos they choose.
What RJ Young Is Doing
1. Working with Manufacturers to Keep Prices Down
RJ Young is working tirelessly with manufacturers to get the best price and solution for customers. In many cases, this includes "next quantity" pricing strategy from some manufacturers.
In other words, this allows RJ Young to sell items at prices below the normal price for that quantity. For example, it may be possible to negotiate a price for 250 pieces as if a customer was buying 2,000 pieces.
2. Maintaining Speed and Quality of Delivery
RJ Young is analyzing supply chains and manufacturing logistics to ensure that the tariffs do not impact turnaround time for customers. Currently, there should be no delays in the delivery of promo items.
3. Researching Possible Alternatives
The reality that most promotional items come from China makes alternative sourcing difficult. However, RJ Young is working with manufacturers to identify suitable alternatives which meet the same quality and aesthetics as the original item. In such cases, the customer's dedicated promo item specialist will reach out to discuss options.
In addition, RJ Young carries a selection of promotional products which are Made in the US. These items include Orca and Post-it® and may be found through selecting the Made in USA box in the search function on the online promotional store.
Promotional Items with Logos Remain an Excellent Marketing Strategy
Branded promotional items with logo(s) remain an excellent way to leave a company's mark. Research shows that 71 percent of consumers will remember a brand that gave away a promotional product at a trade show. Likewise, brands which provided custom branded merchandise were likely to be seen more positively.
There is no doubt the trade war will affect the promo item industry. By working with RJ Young, they will communicate with manufacturers to secure the lowest prices and work with you to find alternative items. A company's promo items will remain a quintessential – and highly effective – part of a company's marketing strategy.
RJ Young is committed to helping your company make a flawless impression. Do you have further questions about how we are handling our promotional item pricing and sourcing? Reach out and start a conversation today.