Could Your Company Be Saving Money with Color Printing Production Equipment?
Posted on August 02, 2018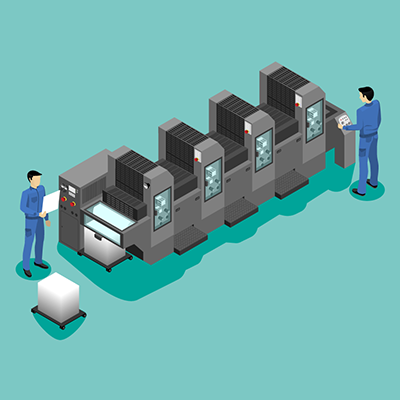 According to recent reports, full-time employees in the U.S work an average of 47 hours per week. With a seemingly endless number of tasks to complete, workers are always in search of ways to lighten that load. One way millions of people attempt to minimize their workload is by outsourcing their printing projects. While this may be beneficial for some companies, it may not be the best option for yours. If you find yourself picking up projects from a print shop often, it could be time to look into alternative methods of producing your print-based materials. A great alternative to print shops is owning color printing production equipment. This equipment can handle all of your print-related needs, regardless of size and complexity. With in-house printing capabilities, several companies are able to save time and money, while enjoying an increase in efficiency. Could your company benefit from production equipment?
What Types of Companies Benefit The Most from Color Printing Production Equipment?
While production equipment can be a great solution for all of your printing needs, some companies benefit more than others.
Companies with Recurring, High Volume Print Jobs
Outsourcing print jobs can be useful for companies who rarely need large quantities of print materials made. However, for companies and organizations with high monthly volumes of printing to produce, production equipment provides increased efficiency and reduces time and costs.
College campuses, for example, produce new orientation packets for all incoming transfer students and freshmen. Each orientation packet can contain up to 100 pages and may require a specific type of binding. Additionally, most churches produce weekly pamphlets for their congregation to update them on information regarding upcoming events and the status of their current budget. Organizations like these can eliminate time-consuming trips to the printers and cut out service fees with production equipment.
Companies That Are Growing And Changing
Every company wants to be successful and expand, but it is difficult to accomplish these goals when resources are wasted. A recent study found that 50% of print materials are tossed when ordered in bulk. Information becoming outdated or inaccurate is a major reason for this waste. Fast-growing companies have to hire new employees regularly, and with each hire comes lots of printing. Whether it be, training manuals or policy handbooks, the number of resources required for onboarding new employees can be costly.
In an attempt to cut some of those costs, employers often try to order large quantities of booklets to reduce the cost per book. While this works some of the time, most of the documents end up going to waste because the information in them becomes inaccurate. Instead of having a print shop make new booklets every time a change in location or management happens, production equipment lets a company print new booklets as new hires come along. This helps make sure that information is correct and no print materials go to waste.
Other Benefits of Owning Production Equipment
There are several perks of having production equipment in-house. Regardless of what kind of print job is required, there are numerous advantages to using production equipment.
Print Anytime
In today's environment, it's no surprise work is being done outside of the traditional 9-5 model. Whether you are working late to prepare materials for a conference or simply getting materials ready for a client presentation, production equipment lets you print anytime – even on weekends. Traditional print shops put you at the bottom of the list when you submit an order, but with your own equipment, you are always the top priority.
Quick turnarounds usually come with a sizable fee. In-house equipment removes that fee and features high-speed scanning and printing. Most equipment can produce up to 90 pages per minute. This means that you can print and mail materials on the same day at a fraction of the cost. With such high printing speeds, you no longer have to dedicate a space to keep print materials on hand.
Make Sure Your End Product Is Exactly What You Want
Your vision is guaranteed to become a reality when you are in control of the printing. You can make sure that your colors, whether it's black and white or color production, are completely accurate before printing. Image quality is exactly what you want with the vivid digital color capabilities of color printing production equipment. This equipment also allows you to customize the binding and finishing options for your materials.
When mistakes are made in print shops, they often fix the problem for free, but you incur a different type of cost – time. This becomes an even bigger issue when you are picking up the materials the same day they need to be used. Fortunately, you are able to print a test document before mass producing materials when you have your own equipment. These test runs make sure that your final product is perfect and immediately ready for use.
Your Company, Your Options
At RJ Young, we know that our production equipment is not the right option for every business. Regardless of what kind of product you choose, we want to help you work smarter, not harder. That is why we also offer our customers print and promotional services at affordable prices. But, if products like color printing production equipment could benefit your company, check out our product catalog to explore the variety of equipment available to you.
To learn more about whether production equipment is right for your business, contact us and one of our specialists will provide you with more information, or call us at 800-347-1955