Production Print Solutions for Commercial Printers
Posted on November 04, 2021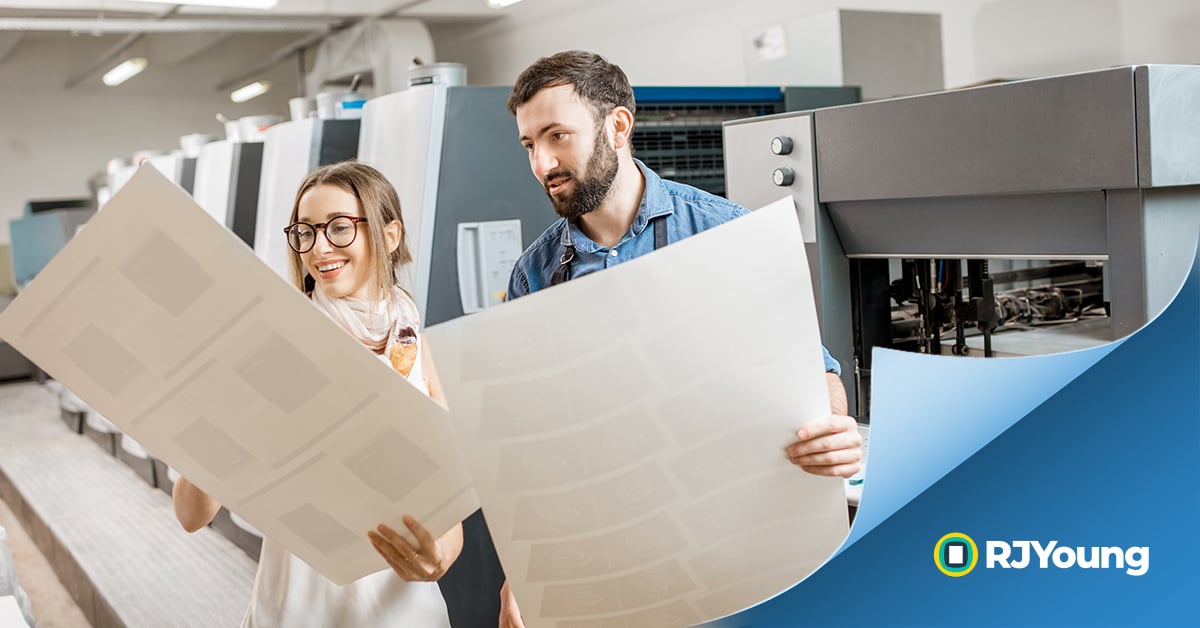 Despite the uncertainties and disruption of the coronavirus pandemic, the commercial print market is exhibiting a pattern of stable growth that experts predict will last through 2026. With many industries taking a new interest in advertising and organizations outsourcing commercial printing needs for more cost-effective bulk printing, commercial printers are in a good position to reap significant fiscal benefits if they stay ahead of technological trends.
One natural partnership is the pairing of e-commerce with web-to-print functions — a trend that even shopping giant Amazon is taking advantage of through its merch line of products. Commercial printers can hop aboard this trend, too — if they have the right equipment and technology. Finding the equipment your print shop needs is critical, but so too is finding a strong partner that can offer service, selection, maintenance, and troubleshooting after the initial purchase.
At RJ Young, our clients rely on our deep knowledge of the industry plus our broad selection of wide-format and production equipment — with all the associated technologies that make these devices work better, faster, and smarter. Let's look more closely at how a partnership with our team can help your production print shop be more competitive.
Taking Your Production Print Shop to the Next Level
Among the most successful smaller print shops are those that are willing to adopt the latest technologies and tools. They focus mainly upon wide-format inkjet printing, color digital printing and copying, binding and finishing, black and white digital printing and copying, and prepress functions. However, web-based services make up 42% of their revenues, rounding out their offerings.
At RJ Young, we bring the best of printing technology to your fingertips so you can focus on those aspects of the commercial printing business that will help increase revenues, such as:
Leading-Edge Digital Press Technology
We partner with leaders in the production print industry such as Canon, HP, Kodak, Kyocera, and Ricoh to bring you incredible value and functionality in the widest range of choices. That means you can target your specific business goals and challenges with the exact machine you need — with the right features to help you serve your customer base.
Innovative Web-to-Print Software
Web-to-print is a large part of many customers' frequently requested services. To help you be prepared to help clients get the on-demand print jobs they need, we offer a wide variety of web-to-print software, such as:
RSA -

automates ordering, fulfillment, job ticketing, production management, and chargebacks across corporate

print

centers

EFI MarketDirect StoreFront -

helps you grow your business by giving you a complete eCommerce toolset that will help you reduce labor costs through automation

PRISMAprepare -

simplifies document makeready from composition through production

PRISMAdirect -

streamlines the production process from order acquisition and management through fulfillment
These innovative software products can streamline the production print process, dovetail nicely with e-commerce outreach, and reduce handling costs across the board.
Offline Printing Equipment
If you already have production presses that don't include finishing equipment, no need to fret. We have an extensive suite of superior offline printing equipment to help you produce high-quality, professionally finished products. Offerings range from paper cutters and folders to binding machines, label presses, stitching machines, and digital duplicators.
Rock-Solid Customer Service
Our team of print professionals has more than sixty years in the print and imaging business, ensuring that our specialists can help you make the best choice among products and equipment. Not only do we support you throughout the purchasing process, we provide onsite training to assist your staff in gaining the knowledge they need to be efficient and productive. After the sale, we continue to be a resource, answering questions and troubleshooting projects.
And, since machine downtime is extremely expensive for production print shops, we make sure your equipment is running smoothly by staffing our technician team with experts that have deep knowledge of proper machine care and maintenance. Finally, we offer an unbeatable service guarantee with our We Make It Right™ Guarantee. If for any reason you are not happy with our equipment, service, supplies, billing, anything—let us know and we will make it right, right away.
Let RJ Young Move Your Print Shop to the Front of the Competition
"We know the print and imaging industry is a competitive one. With us on your team, your production print shop will have the advantage of cutting-edge technology coupled with an unparalleled service guarantee," said Josh Santos, director of production print at RJ Young. This will amplify your shop's productivity, reduce costly downtime, and ensure your business moves ahead of the competition by offering more of the services your clients want in a manner that is better, faster, and more efficient.
Get the RJ Young advantage for your print and imaging business. Touch base with an RJ Young consultant today and discover how our suite of leading-edge tools and our knowledgeable team of experts can help improve the efficiency of your print shop.