5 Reasons to Bring Print Production In-House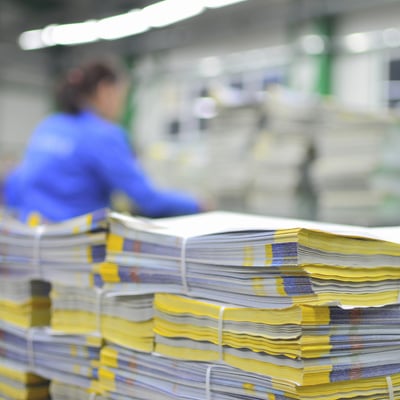 Is your print volume picking up, therefore forcing you to outsource your company's print jobs more frequently? There will come a point where your business must evaluate if your printing needs are being taken care of in the most cost-effective way. If you feel like there may be room for improvement; it might be time to consider bringing your print production in-house.
At one point, only major organizations within specific industries could afford printing presses and professional print production tools. However, advances in printing technology, and clever innovations by manufacturers have resulted in robust, cost-effective printing technology becoming available for an array of businesses. It is leading some to consider the advantages of bringing their print production in-house rather than continuing to outsource vital jobs to a local printing company.
Read on to learn how an in-house production printer can make your job much easier, while allowing you to create more effective, impactful pieces for your business and helping to keep an eye on your bottom line.
---
5 Reasons Offices Should Invest in Print Production
Many organizations are familiar with their reliable, versatile, multifunction printer (MFP). While fantastic for efficiently printing off everyday office documents, many offices need more printing power than what an MFP can offer. These offices typically outsource their printing to professionals with the adequate machinery for the job.
However, as print production technology becomes more accessible, organizations are weighing the benefits of bringing advanced printing capabilities into the office. Some of the advantages include:
1. Accessible, On-Demand Printing
Outsourcing can make certain print jobs more accessible to companies that cannot invest in their own advanced machines. For others, outsourcing print jobs can limit the amount of printing due to cost.
A dedicated, in-house production printer is much more accessible for a company that prints large volumes or speciality projects. In addition to saving on costs, such as rush fees or surcharges, in-house printing means that a company can enjoy:
Drafts, mockups, and sample creation before final publication
Quick turnaround on printed materials for projects
Print what you need, when you need it – reducing excess inventory and saving office space for printed materials
Advanced variable data printing that might otherwise be easy to get wrong by a third party

VDP offers targeted messaging to prospects through the use of names, locations, logos, etc. Easily personalize your marketing pieces – the targeting options are endless!

Print reoccurring/ongoing jobs with ease (E.g. printing large quantities of employee handbooks each year)
Keep in mind when purchasing a production machine; you will need the manpower to operate the machine — whether that be to train your staff or hire a specific technician to operate the device. When purchasing a piece of production equipment from RJ Young, they will offer free access to their Production Analysts who can train you or your team on how to use the device for as long as you are under contract.
2. More Creative Printing Options & Technology Improvements
With an in-house printer, an office is empowered to do more with their printing process. From an increased selection of paper types to advanced finishing options (cutting, creasing, binding, and booklets) and experimental inks, a company can use these options to express the creativity and uniqueness that drives its brand. Traditional MFPs limit your choice of paper, excluding options that get stuck in the machine, like card stock or glossy paper.
Previously, companies had to rely on outsourcing print jobs that required binding, finishing, or high-quality pieces printed on heavy paper stock. Due to the latest digital print production equipment and software, that has all changed. Businesses who bring print production in-house can print all kinds of off-set quality pieces themselves.
3. Save Time & Reduce Printing Costs
The beauty of an in-house production print device is that you can have printed materials almost instantly and have the freedom to print any size without increasing the cost per piece.
In most cases, to get a lower price per page, you often have to order a larger quantity. Unfortunately, most of the time, you find out only a few months later that this piece needs to be updated, but you still have hundreds of thousands of copies that are now out of date. Not to mention those extra pieces take up storage space and eventually get thrown away. Never run into a situation where you have a 'last-minute change' after the piece has already been sent to the print shop causing you to have to re-order and pay double.
By bringing printing in-house you have the capability to print at any time with your own printing process and equipment. A quick turnaround is easily attainable making missing deadlines a thing of the past.
Benefits include:
Only printing what you need, when you need it
Produce same day materials
No mark-ups and processing fees
No shipping costs
Reduce labor costs and streamline your options to save time
4. Improved Quality Control of Print Jobs
Another significant benefit of bringing print production in-house includes the increased level of control that an organization has over its print jobs. This is important from a branding perspective; where getting the font or color wrong may result in materials that do not match. A print job may involve highly specific details such as variable data and multiple versions of the same design or document, or precise PMS color matching.
In many outsourced printing cases, you only see an emailed digital proof of your piece (unless you request a physical proof, but that could take a day or so to receive) and do not get to see the final product until it arrives at your office. By having in-house print production, you can verify an actual printed proof before going ahead with the entire print run.
While a professional press operator is skilled at following precise instructions, taking the job out of the house adds another layer of complexity to the process. Therefore, companies with ultra-specific print jobs typically benefit from the improved control that an in-house production printer delivers.
5. Enhanced Print Production Security & Compliance
If you are in a regulated industry you need to have absolute control over your documents in order to stay compliant and protect sensitive information. Although professional printing companies take the security of their clients very seriously, for some companies, that may not be enough. Failing to comply with privacy regulations such as HIPAA and Sarbanes-Oxley can result in pricey fines for your business.
Professional service industries, including law, finance, and healthcare, should be more cautious than others when it comes to secure printing; due to the fact that they print documents containing sensitive or private data.
By bringing print production in-house, there is less of a chance of sensitive data getting leaked. Keep sensitive documents from going astray with an in-house production machine.
---
Find the Ideal Production Printer with RJ Young
Print production has never been more accessible for a wide range of industries and organizations. Many offices are choosing to invest in an advanced printer to bring certain types of print jobs back into the office. There are many advantages to doing so, from increased accessibility to better print security. RJ Young offers in-house leasing and flexible monthly payment options for any and all equipment to help meet your specific needs. Before shopping for a production printer or any office equipment, make sure to connect with the experts at RJ Young.
RJ Young is a leading office technology solutions provider. Start a conversation with a printing expert now.
---
Bringing Print Production In-House is Not the Right Solution For Everyone
There are many benefits to bringing your print production in-house, but there are also situations where it may be smarter and more cost-effective to outsource a print job. RJ Young also offers Outsourced Printing Services.
Whether you are looking to outsource a large or specialty print job, or something smaller, the specialists at RJ Young have printing solutions for every conceivable need. A combination of in-house and outsourced printing may fit your needs best — learn more about Outsourced Print Production.