Triad Business Journal - 20 in their 20s 2021: Grant Gentry
Posted on December 16, 2021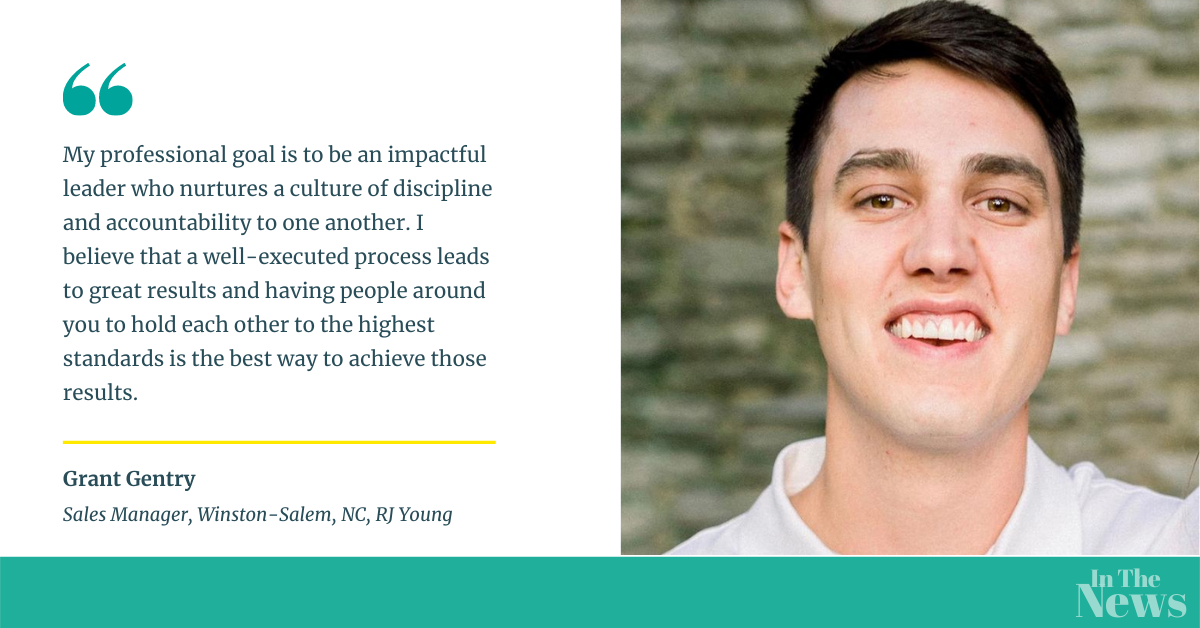 Grant Gentry, sales manager, RJ Young
Age: 28
Why selected: Gentry works as sales manager of the Triad office for office technology company RJ Young, leading a sales team and working to expand the company's North Carolina operations. He also volunteers with greeNest, an organization that provides furniture to people who are transitioning to stable housing.
Business address: 3909 Westpoint Blvd. #F, Winston-Salem 27103
What one word best describes your personality? Ambitious
What is your favorite place to hang out in the Triad? Tanglewood Park, for sure. There are so many activities to enjoy – mountain biking, concerts, camping, a huge pool, golf course and the lake just to name a few. This park truly has something for everyone and my family.
Do you prefer working from home or in an office? Office, definitely. Don't get me wrong – working from home around the time my daughter was born was a huge blessing, but getting to interact with my reps and our customers every day is why I enjoy this line of work.
What song are you playing on repeat? To be honest, I try to keep from playing songs on repeat too much — I get burnt out on them and then don't enjoy them in the future. Some artists that I listen to on a consistent basis are Umphrey's McGee, REM, The Smiths, Ben Folds, Cake and Metallica.
How can the Triad better retain young professionals? Young professionals enjoy a variety of activities, and "work-life balance" has been a hot topic for the last 10 years or so. I think the large number of golf courses and parks is a huge plus for the area, but I think some additional event venues for smaller concerts, shows and theatre would be enjoyed. Moving here during the pandemic, we've spent a lot of time outdoors exploring different downtown areas, local parks and restaurants with outdoor amenities. As we all search for more outdoor spaces in the future, I think it would be great to see these pop up in additional businesses and industries, not just parks, arts/entertainment and food service.
Most meaningful volunteer activity? I enjoy exercising, helping others and building relationships. That is why my most meaningful volunteer activity is with my F3 brothers on Saturdays with greeNest. We pick up a variety of items from housewares to furniture for this local nonprofit that provides home furnishings for people transitioning to sustainable housing. I enjoy the camaraderie with my fellow volunteers, working with the sweet staff and volunteers at greeNest, and knowing that I'm able to help put these items to good use for years to come.
What do you do for fun? Road cycling. If I'm not at work or with my wife and daughter, you can find me on the backroads of the Triad putting in some miles on my bike. I've made some great friends in the cycling community, and it's a great form of exercise that allows me to see more of our beautiful area.
What attracted you to the Triad? The Triad is not too big and not too small. There is a lot of business growth happening right now and plenty of transplants from other parts of the country and world making their way here. I'm an outgoing person, and this move was a great opportunity to meet new people and get introduced to a variety of new businesses and industries.
What are your professional goals? My professional goal is to be an impactful leader who nurtures a culture of discipline and accountability to one another. I believe that a well-executed process leads to great results and having people around you to hold each other to the highest standards is the best way to achieve those results. I desire to see my team become one of RJ Young's top five and I would love to be part of the reason that we grow into other parts of the Carolinas.