The Cannata Report: "RJ Young's AJ Baggott On Finding IT and Cybersecurity Talent, Production Print, and New Initiatives"
Our interview with RJ Young CEO AJ Baggott during CJ Cannata's recent visit to Nashville continues. This time AJ discusses new diversification opportunities, where RJ Young is finding IT and cybersecurity talent, the dealership's flourishing production print business, and new initiatives that have him excited. Click here to read part one of AJ's interview, where he discusses RJ Young's diversification and managed IT strategies.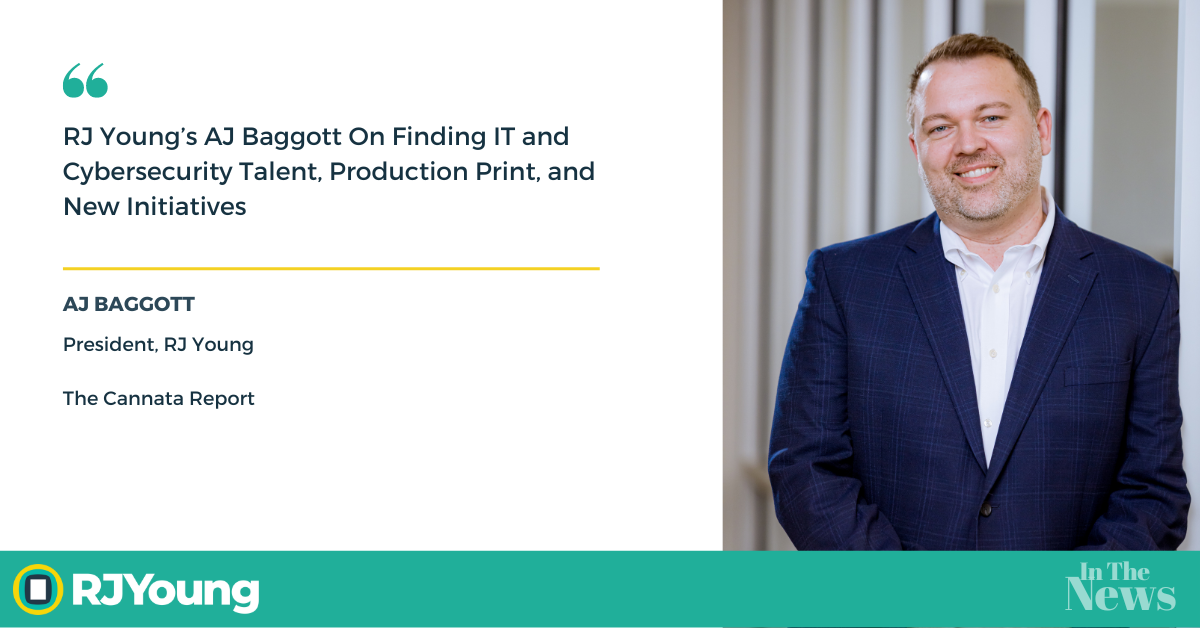 Do you see other opportunities for RJ Young to diversify in managed IT?
Baggott: As we get better talent and bigger accounts, we are looking to expand our offerings in the managed IT space. We're going to launch a compliance practice. We already do compliance work for some federal government contractors. We also want to do more with our cybersecurity practice. We hired three incredibly talented people that are at the forefront of cybersecurity right now. We feel like they will take us to the next level from an MSP perspective.
Does RJ Young have a secret for finding IT talent and cybersecurity talent?
Baggott: The managed IT company we bought last year, we bought them for the engineering talent. They had certifications to do Department of Defense work. Honestly, most of our best hires come through employee referrals. They know the culture. They know the type of company we have, so it's good to have current employees that are excited to bring people they know in. That's been key to success.
How is the production print segment of RJ Young's business doing?
Baggott: We can't keep up. We were in the top one or two with Ricoh this past year for production print and then also top five with Canada in production print. We've been doing really, really well, and it's not just the low-end production. We're selling a ton of 9200s, Ricoh's highest end offering.
Our teams are so comfortable now to go in and find opportunities and then engage with our production print specialist. A lot of OEMs and other people were cutting those folks during the pandemic. We were hiring the best talent we could find, and it has paid dividends on the production side.
The people we've added in those departments over the last two to three years have a direct correlation to our success. Production print is going really well, and our service team has done a phenomenal job. If you do production the wrong way, it can go sideways really easily. Our service teams had a steep learning curve, not because they weren't capable. It's just we had so [many production print devices]. Trying to get them trained and up to speed was a challenge at first, but they've done a remarkable job.
Are there any new initiatives taking place at RJ Young that have you excited?
Baggott: We've got such good momentum going that it is exciting to come to work every day. You never know what new opportunity's going to hit. We do a ton of VIP hosting where we'll bring big customers from all over the southeast to Nashville and show off our headquarters and all the different things that we do. In a lot of cases, they come to see one thing and after they leave, we'll set up a call with them about AV, or outsourcing print or whatever.
We had over 22% growth last year in what is supposedly a dying industry. We don't see that. We're seeing growth in every single part of our business, including the traditional print part of the business so that's exciting.
We did some acquisitions last year. Right now, we don't have any on the horizon although we look at new ones all the time, but right now we're doing it organically and that to me is exciting.
I don't know that we have any initiatives other than to keep doing what we're doing because it's working. There's plenty of things that we need to clean up and do better at, but I'm never going to be content with where we're at. I want to strive to be great.
Our leadership mantra for the year is greatness. We're trying to seek greatness and not just be good at what we do. And so that's really one of those there's a book literally called "Greatness" that I bought for my leadership team for Christmas and made them read it. That's when we kicked that off as our theme for the year.
One of the four pillars in the book is passion. You can just see that in our people here. Yeah, we've got a passionate group of people who care about RJ Young and care about our success and it's paying off.
_________________________
Read the article here.