RJ Young Reports Uptick in Education Technology Solution Sales
Until the upcoming school year begins, the company will donate a percentage of education sales to education-based non-profits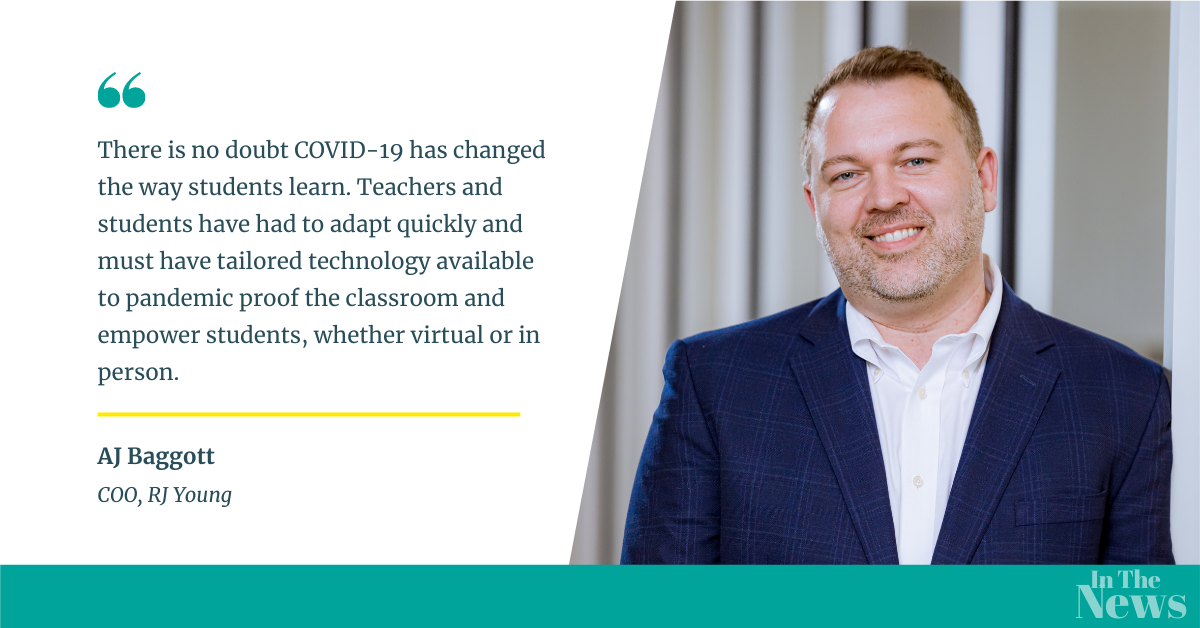 RJ Young, an industry-leading business technology solutions provider in the Southeast, reports a recent uptick in technology solution sales to educational systems after recent congressional COVID relief funding.
After Congress passed the recent COVID-related funding for K-12 and higher education, schools across the nation are researching and quickly adopting new technologies to facilitate a pandemic-considerate classroom. Between the CARES Act, CRRSA, and American Rescue Plan, education institutions will have access to $280.7 billion to spend by 2024 to support student learning following the pandemic.
RJ Young, with nearly 60,000 clients across the Southeast, has witnessed significant momentum around the adoption of learning technologies that is directly correlated with the recent congressional funding. Interactive whiteboards have been extremely popular. Schools in Mobile, Alabama have spent nearly $1 million of their funding to purchase interactive whiteboards to engage students in a digital classroom. Additionally, schools in Middle Tennessee, Eastern Georgia, and Central Florida have used the funds to purchase smart security cameras.
"The recent education stimulus aid will be transformative for schools after a challenging year," said Chad Lagrone, vice president of technology services. "Both students and teachers need innovative technologies to support learning whether it be in-person or remotely."
Educational institutions are investing in technology solutions to get back to classroom's safely and efficiently. These include:
"There is no doubt COVID-19 has changed the way students learn," says AJ Baggott, COO. "Teachers and students have had to adapt quickly and must have tailored technology available to pandemic proof the classroom and empower students, whether virtual or in person. We strive to be a one-stop shop for the technology solutions to power the modern classroom."
To give back to local communities and stay true to one of its core values, RJ Young will be donating a percentage of all education-based sales to a non-profit of the client's choice.
"2020 was hard on everyone. Students and teachers were in one of the toughest spots. Learning and teaching remotely strained pupils and educators," said Baggott. "As educational institutions turn to us to help create their modern classrooms, we want to give back to them, their students and their missions."
###
ABOUT RJ YOUNG
RJ Young is an industry leader that provides technology solutions that power Southeastern businesses. RJ Young helps small to enterprise-level organizations transition into modern workplaces and increase productivity with comprehensive managed IT solutions, office equipment and technology, business process outsourcing and digital communications. Headquartered in Nashville, Tennessee, RJ Young has been partnering with businesses since 1955 and has more than 600 team members in more than 30 sales and service locations across nine states. To learn more about how RJ Young can help power your organization with technology solutions, visit RJYoung.com or reach out to info@rjyoung.com.