RJ Young Promotes Lauren Kail to Regional Vice President of the Northwest Region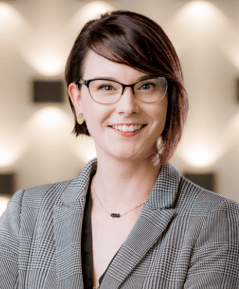 Lauren will lead RJ Young's sales teams in the Memphis, TN, Jackson, TN, Tupelo, MS, and Columbus, MS locations.
(Memphis, TN) March 23, 2021 – RJ Young, the industry-leading provider of technology solutions that power businesses, announces today the promotion of Lauren Kail to Regional Vice President of the company's Northwest Region. In this role, Lauren will oversee the Memphis, Jackson, Tupelo, and Columbus RJ Young branches.
Lauren joined the RJ Young team in 2015 as an Account Representative in Jackson, Tennessee. Just three years later she was promoted to Sales Manager leading the Huntsville, Alabama team. In her new role, Lauren will lead the newly formed Northwest Region with sights set for expansion.
"I am ecstatic to be joining Leadership as Regional Vice President at such an exciting time at RJ Young," said Lauren Kail, Regional Vice President. "The company is growing and expanding rapidly, and to be at the forefront of that is an honor."
"Lauren is the kind of dynamic leader we look for at RJ Young," said AJ Baggott, COO. "We are eager to see what the Northwest Region accomplishes under her leadership."
Lauren is a native of the Memphis area, as she grew up outside of Memphis in Milan, Tennessee. Lauren graduated from Milan High School in 2010 and is looking forward to working closer to her hometown.
ABOUT RJ YOUNG
RJ Young is an industry leader providing technology solutions that power businesses in the Southeast. RJ Young helps small to enterprise-level organizations transition into modern workplaces and increase productivity with comprehensive managed IT solutions, office equipment and technology, business process outsourcing, and digital communications. Headquartered in Nashville, Tennessee, RJ Young has been partnering with businesses since 1955 and has more than 600 team members in more than 30 sales and service locations across nine states. To learn more about how RJ Young can help power your organization with technology solutions, visit RJYoung.com or reach out to info@rjyoung.com.