RJ Young Named Trusted Strategic Partner of Office Technology and Equipment for Florida State University
Posted on November 21, 2019
RJ Young wins multimillion-dollar partnership
RJ Young is pleased to announce its newest multimillion-dollar partnership with Florida State University, one of Florida's preeminent universities. In early 2019, RJ Young was named the trusted strategic provider of office technology and equipment for Florida State University.
Florida State University has over 42,000 enrolled students and employs close to 10,000 people in the state of Florida. The main campus sits on 485 acres in the middle of Tallahassee and has an operating budget of over $1.9 billion.
In early 2018, Florida State University issued an Invitation to Negotiate (ITN) seeking a new provider for its office equipment needs for its main campus as well as additional locations around the state. At that time, RJ Young, with help from Ricoh, assembled a team of sales, service, and operational leaders to prepare a bid that embodied a long-term partnership, cost savings, and custom solutions for the issues faced by an organization of this size. After a year of planning, meetings, and negotiating, Florida State University announced it would be entering into a new agreement with RJ Young.
Currently, RJ Young is near completion of the installation process of more than 400 Ricoh units throughout the Florida State footprint, including its remote campuses located throughout the state of Florida. RJ Young is also providing solutions to assist Florida State University in monitoring these units for automated supply orders and service calls. The university's previous supplier contract expired in September 2019; therefore, RJ Young has been hard at work to make sure this transition is as seamless as possible for students and staff.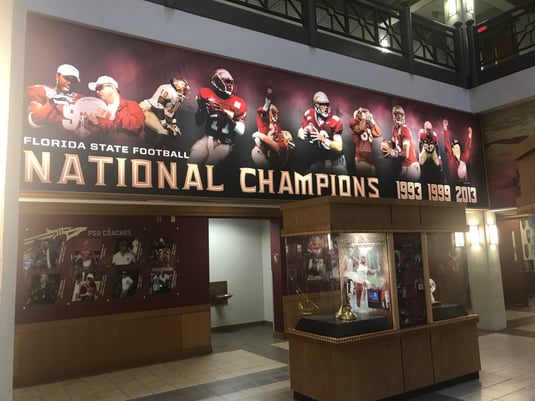 "This large enterprise deal brings RJ Young together with one of the largest universities in the state of Florida. This is a huge opportunity for the company and on behalf of the entire RJ Young team, we are proud to call Florida State University a part of our family. The RJ Young team is excited and looking forward to bringing their excellent customer support and service to FSU."

Chip Crunk, RJ Young President & CEO
To accommodate its continued growth, the RJ Young Tallahassee location ramped up with additional employees, a new warehouse, and some new processes to get the job done right. RJ Young looks forward to focusing on the infrastructure and implementation of the plan at Florida State University.
RJ Young is also a proud sponsor of Florida State University Seminoles athletics and looks forward to being the trusted strategic partner of office technology and equipment for Florida State University.
---
About RJ Young
RJ Young is the largest, privately-held dealer in the Southeast and one of the largest in the nation specializing in managed IT services, document management solutions, managed print services, remote support, remote monitoring, fulfillment services, and office imaging for small to enterprise-level businesses. Headquartered in Nashville, Tennessee, RJ Young has been in business since 1955 and has over 650 employees in over 30 sales and service locations across nine states. Under the corporate tagline "Your Productivity is Our Mission," RJ Young helps modern professionals become more successful in their businesses with solutions to securely manage paper and digital information and empowers businesses with leading technologies.