RJ Young and Fast Pace Health Partner to Donate Supplies to Flood Victims in Waverly, Tennessee
Posted on August 26, 2021
Supplies such as hand sanitizer, bottled water, t-shirts, and disposable masks will be distributed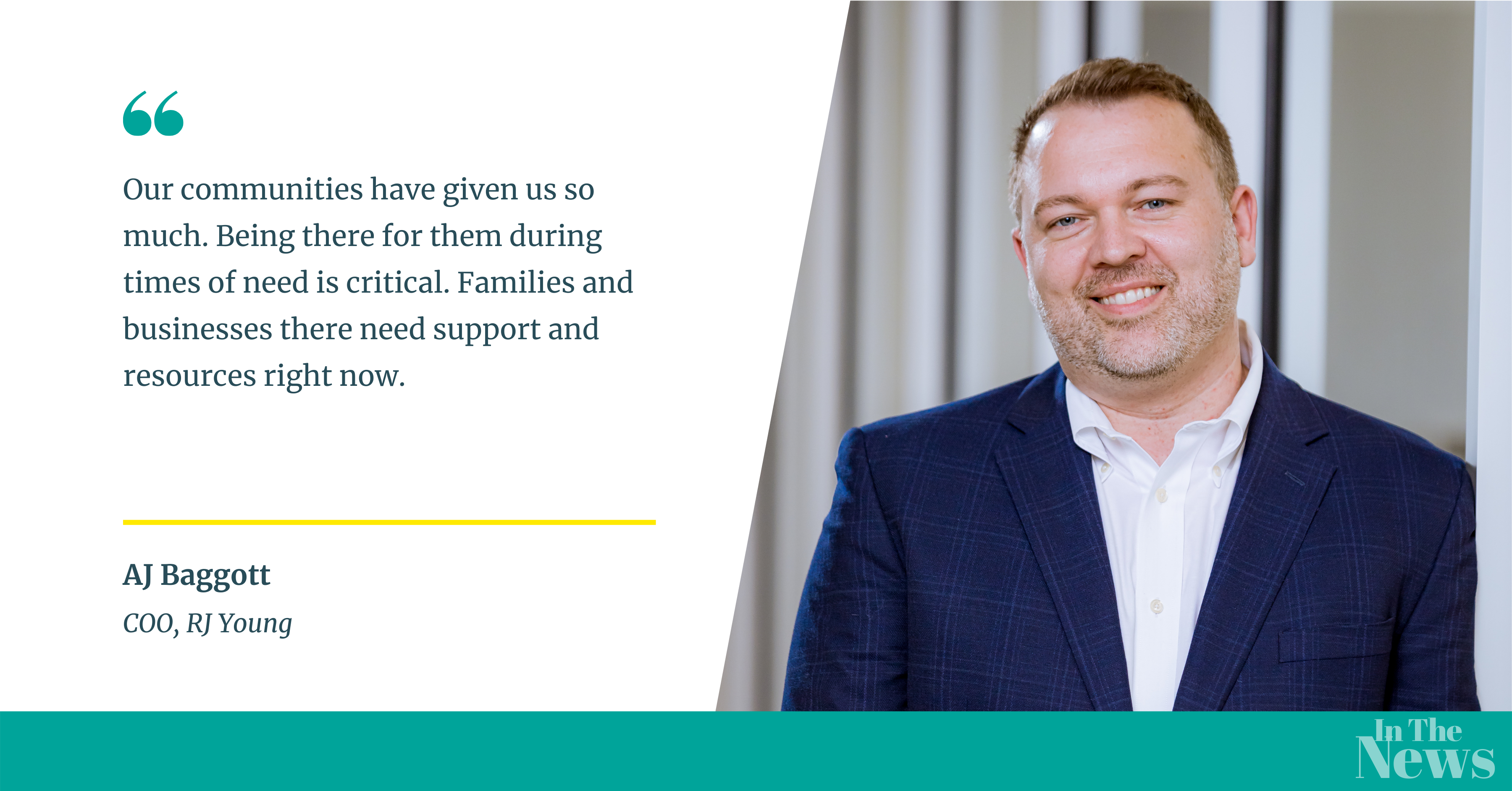 (NASHVILLE, TN) August 26, 2021 – RJ Young, an industry-leading business technology solutions provider in the Southeast, and Fast Pace Health, urgent care clinics, are partnering to give back to the community with a donation of supplies to the flood-stricken areas of Waverly, Tennessee.
On August 22nd, within 24 hours, Humphreys County sustained up to 17 inches of rain, shattering the Tennessee record for one-day rainfall by more than 3 inches, according to the National Weather Service. The devastating flooding caused death and major damage to homes, roads, utilities, and businesses.
"Our communities have given us so much," said AJ Baggott, RJ Young COO. "Being there for them during times of need is critical. Families and businesses there need support and resources right now."
RJ Young supplies Fast Pace Health with personal protection equipment through their custom promotional products division. Fast Pace Health partnered with RJ Young to assist in donating supplies to those affected by the recent floods in Tennessee.
"It's who we are as an organization," said Karen Daingerfield, Fast Pace Health State Director for Tennessee clinics. "We are honored to give back, and continue to put the community and patients at the center of all we do."
RJ Young will be volunteering in Waverly on Friday, August 27th to pass out supplies including hand sanitizer, bottled water, t-shirts, and disposable masks. Any remaining sanitizer bottles and masks will be distributed to locally approved relief agencies within the community or to existing RJ Young clients for them to distribute to their employees.
###
ABOUT RJ YOUNG
RJ Young is an industry leader that provides technology solutions that power businesses. RJ Young helps small to enterprise-level organizations transition into modern workplaces and increase productivity with comprehensive managed IT solutions, office equipment and technology, business process outsourcing and digital communications. Headquartered in Nashville, Tennessee, RJ Young has been partnering with businesses since 1955 and has more than 600 team members in more than 30 sales and service locations across nine states. To learn more about how RJ Young can help power your organization with technology solutions, visit RJYoung.com or reach out to info@rjyoung.com.
ABOUT FAST PACE HEALTH
Fast Pace Health clinics provide treatments for a wide range of illnesses, injuries, and common conditions and provide a variety of wellness, diagnostic and screening services. Open seven days a week with extended hours, Fast Pace Health offers patients the convenience of short wait times, daily urgent care services, telehealth services, and the ability to be seen by a primary care provider without an appointment. Fast Pace Health accepts most insurance providers and offers affordable self-pay prices for uninsured patients. Each Fast Pace Health clinic features multiple exam rooms, on-site lab testing, and X-ray capabilities. Fast Pace Health's "patient first" mentality has guided its mission to provide convenient and compassionate care to the communities it serves.