Workflow Technology in Education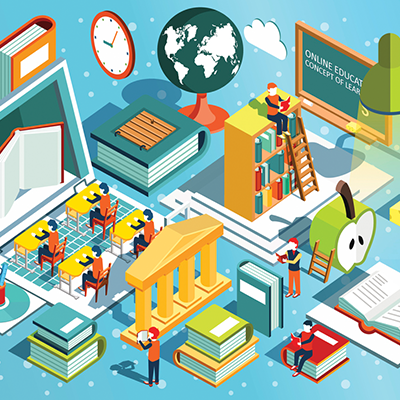 The Education industry has created amazing developments all over the world. For that reason, if anyone deserves the opportunity to make things better for themselves, it's Education. Document management and workflow technology in education solutions have been designed specifically to pair with the technology the customer already uses.
Once implemented you'll be able to translate paper-based files into electronic documents and usable data. Benefits from these solutions include operating more efficiently, securely, uniformly. Each available option can be customized for the customer and can be seamlessly integrated into their current processes, also keeping every budget in mind.
Automate workflows to work smarter and faster
Automated workflow solutions help you manage files, student records, and other data securely while eliminating unnecessary labor, supplies, human error – and filing cabinets!
Education institutions use a lot of paper. On the administration side alone, imagine having to file or index, scan, rename and save each piece of paper, individually.
Is security at stake when files are mis-keyed, lost, or printed publicly?
Are other objectives put on the back-burner due to lack of time?
What if your staff could get that time back?
Document management solutions can address these issues by:
Automatically renaming and routing scanned papers where they belong in your student information systems
Digitally submitting and processing forms for you
Digitally storing and securing filing cabinet contents with immediate access to this information
Customers are left with secure, reliable data and a more efficient office by unifying processes across the board. This will improve student and employee experience.
See how Ole Miss digitized over 100 years of sports memorabilia using an automated workflow solution.
Our webpage on workflow solutions has more information on how these systems can also integrate with mobile devices, back up files, and help with your green initiatives.
Reduce your printing spend and paper waste
Schools, colleges, and universities are all daunted with paper waste and uncontrolled printing, which hit the budget hard.
Thankfully, these cost savings opportunities are tackled by RJ Young's output management software solutions.
Some indicators that your school could benefit from an output management software solution are:
Lack of cloud-based printing, which limits print access
High overage fees or costly print volume
Poor visibility on individual user's print volume
Inability to control users' print volume
Student services and guests pay to print documents
Other education technology tools, like automatic test grading solutions, not only grade tests. The test grading solutions can also analyze data from surveys, forms, evaluations, and paper assessments.
The test grading solution collects information quickly and accurately, without the need for special paper or additional scanning equipment. Even more, these results can be fed into a range of statistical reports with advanced filtering and comparisons.
Is this just a luxury? Not at all. Schools get more out of what they spend while spending less. Institutions using these features say the solution pays for itself, and report saving thousands each year on hardware, (Scantron) forms, etc.
It also gives time and energy back to the staff, who can pay that forward in the classroom.
Contact us for more information or a free demo on any of these that sound like they might help your school.
Managed Print Services in Schools
Issues with your can put everyone behind.
Previously, Vanderbilt Law School's printers weren't holding up to their workload causing service to decline. These issues ate up time and resources for students, staff, and, as a result, the IT Team.
"With MPS through RJ Young, we were able to get everyone on one page and fix our internal and vendor issues, as well as consolidate our devices – which lowered our cost and eased support for our team at a price we were comfortable with." – Director of IT, Vanderbilt University Law School
In areas where each department is responsible for purchasing their own equipment and supplies, you typically end up with:
A melting pot of vendors, charges, and waste
Overwhelmed IT trying to manage numerous brand requirements and their networking issues
No visibility to compare print volume or spend as a whole
Studies show that up to 30% of miscellaneous spend per year is due to unknown printing costs. Managed Print Services helps put that money back in your pocket.
With ONE customized plan, ONE monthly invoice, and ONE fee that includes your equipment, toner, maintenance, parts, and other supplies, you're able to budget and account for your print costs.
See How RJ Young Can Help You Manage Your Print Services!