Do You Know What Your True Printing Cost Is?
Posted on August 10, 2017

For a digital world, we sure use a lot of paper. Unfortunately, up to 90% of companies do not track how much they spend on producing and maintaining documents – their true printing cost.
Managed Print Services Save Money
Water coolers may be a relic of the past, but plenty of employees still congregate around the printers. Printing continues to be one of the most significant unreported business expenses. In fact, it can account for up to 15% of annual business spending.
Most small to mid-sized businesses only spend around 8% on marketing, so imagine what more you could do by saving just a few percentage points on printing. Nine out of ten companies do not track their printing costs; therefore, they have little or no idea how much they spend on printing.
RJ Young's Managed Print Services offer one flat fee for equipment rental and maintenance, toner and other supplies. Your company can allocate a set number of prints for departments, track who needs the most printing (and who doesn't) and know exactly how much your service and paper costs contribute to your expenses.
RJ Young's team of Managed Print Service specialists will develop a custom plan for your organization after a comprehensive site assessment. Your plan will include exactly which printing technology you need based on your production requirements.
A Business's Total Printing Costs
An organization's Total Printing Costs (TPC) are often underestimated and unmanaged. Total Printing Costs include printed documents, outsourced printing, printers, service and repairs, and supplies. Understanding and controlling the TPC is an opportunity to save 30% or more for most organizations.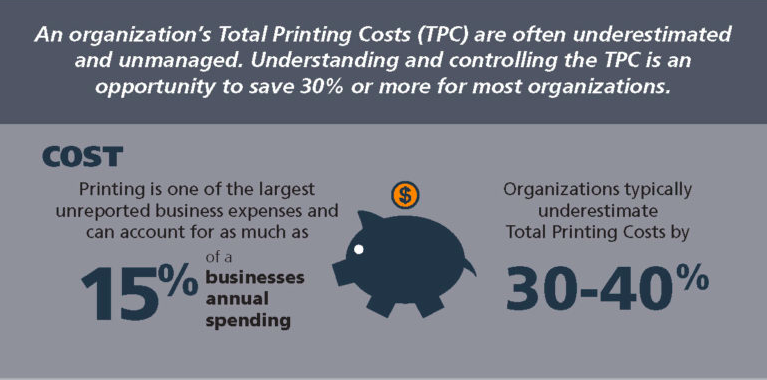 Small Business Printing Facts
44% of printing is avoidable or unnecessary
21% of printouts are thrown away
The average number of times a document is copied or printed is 19x
The average worker prints 10,000 sheets
RJ Young will supply all your office printing needs for one flat fee so you can save up to 30% on your current printing costs.
A Total Printing Costs Program
Implement a program to take control of Total Printing Costs with a Managed Printing Services Program. A TPC program includes printers, service & repairs, and supplies for one fixed monthly fee.

Everything But The Paper
The benefits of a TPC program include a fixed budget, no inventory, the support of an IT team, and managers focused on other initiatives in addition to monitoring and tracking. Review our Total Printing Costs Infographic below, then complete the online form. A local RJ Young specialist will follow up with you and provide you with your free TPC small-business quote.

Interested in discovering how managed print services can save your company time, money, and supplies? Contact RJ Young today to speak with a printing specialist.