Managed Print Services for Healthcare is a Necessity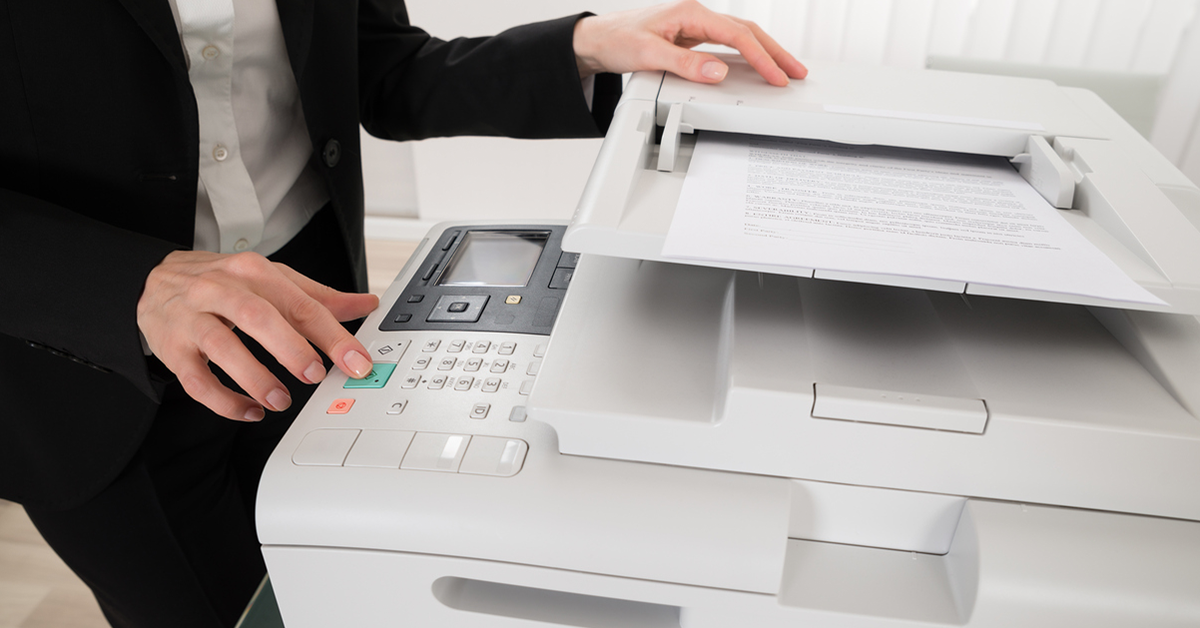 Hospitals, clinics, and private practices are all hectic environments that require easy-to-use and reliable systems for printing prescription labels, invoices, patient files, and other important documents. To serve these needs, healthcare-related businesses operate extensive and costly fleets of single-function printers and multi-function printers. Unfortunately, most organizations do not centrally use managed print services for healthcare to manage their printing and have little awareness of how many printers they have, where they're located, who is using them, and how they're being used. The typical healthcare facility doesn't even know how much it's spending on printing costs.
For all these reasons and more, healthcare facilities of all types can benefit from the intelligent and centralized management of their printing services – what experts call Managed Print Services (MPS). Given the challenges inherent with the COVID-19 coronavirus crisis, the need for MPS in healthcare has never been greater.
Understanding Managed Print Services for Healthcare
Managed Print Services is a centralized solution to the print needs of all types of healthcare organizations. MPS includes a variety of different services, including printer fleet distribution, printing supply management, maintenance and service, EHR output security, and integration with healthcare software platforms.
Healthcare facilities rely on MPS to:
Determine how many and what types of printers to deploy, based on the organization's printing needs, physical layout of the facility, and the desired user-to-device ratio
Manage the installation and operation of the printer fleet
Integrate printers with the organization's existing business processes
Improve the efficiency of printing and document workflow
Ensure that document flow complies with HIPAA and other relevant regulations
Securely archive patient records
Efficiently manage printer supply replenishment
Generate and analyze reports regarding printer usage
Reduce print-related costs
Why Healthcare Organizations Need MPS Now
In any healthcare facility, the availability of timely, reliable, and accurate printed documents can make the difference between positive and negative patient outcomes. MPS can help any organization deliver vital documents on a 24/7 basis without incurring unnecessary labor or financial costs.
MPS is especially important when facilities are operating in crisis mode, as many currently are. Medical professionals need to know that they'll receive the documents they need without wasting their own valuable time on non-medical activities, such as printer maintenance.
MPS Improves Staff Efficiency
Medical staff is typically often overwhelmed with patients, especially during the COVID-19 emergency, and shouldn't be responsible for supplies or trying to repair malfunctioning printers. With managed print services for healthcare, administrative and medical staff can stay focused on their patients, not on printer maintenance.
MPS Reduces Person-to-Person Contact
Medical professionals know that one way to reduce the risk of coronavirus spread is to minimize person-to-person contact by limiting the number of people in their facilities. Utilizing a single source for Managed Print Services reduces the number of vendors that a facility has to deal with. That's fewer people in the door and less person-to-person contact for staff.
MPS Reduces Downtime
Hospitals and clinics need their systems, including their printers, to be running 24/7. With MPS, regularly scheduled maintenance dramatically reduces printer downtime. Printers are always available when they're needed.
MPS Increases Security and Patient Privacy
Data security and patient privacy are essential to the healthcare industry. An MPS program provides a layer of security that might not exist otherwise.
MPS helps healthcare providers manage confidential records and ensure compliance with all HIPAA regulations regarding the dissemination of patient information. Managed printing also includes protections against printing sensitive information.
Managed Print Services for Healthcare Reduces Costs
Finally, in good times or bad, MPS helps hospitals, clinics, and other healthcare facilities better manage their print-related expenses. The robust reporting associated with MPS makes it easier to determine printing needs and shift resources to where they are most needed, reducing costs. By printing more efficiently, you can reduce the print volume. MPS also predicts the need for toner replacement, routine maintenance, and necessary repairs – resulting in the most cost-effective use of all printing resources.
How much money can MPS save a healthcare facility? As an example, a typical 1,500-bed hospital prints more than 8 million pages every month; which adds up to an expenditure of more than $3.8 million a year. An InfoTrends study revealed that MPS can reduce print-related costs in healthcare organizations up to 27%. Apply that savings to the typical 1,500-bed hospital and you get an annual cost reduction of more than $1 million. Similar savings can be had for both smaller and larger operations.
Choose RJ Young for Your Organization's Managed Print Services
Healthcare facilities rely on MPS to gain control over printing and printing costs. RJ Young provides Managed Print Services that fit the needs of all types and sizes of healthcare organizations. We offer both flat-fee and cost-per-page pricing, flexible contracts, and in-house leasing options to customers in the healthcare industry. Our extensive knowledge and proven expertise enable us to tailor an MPS solution for the needs of your organization.
Contact RJ Young today to find the right MPS solution for your location.