Case Study: Healthcare Managed Print Services
Posted on December 22, 2019

About Yalobusha General Hospital and Nursing Home
Yalobusha General Hospital and Nursing Home has been serving its community since 1962. Located in Yalobusha County, Mississippi, Yalobusha General offers a wide variety of healthcare services ranging from radiology and general practice to adult day services and long-term care. RJ Young partnered with Yalobusha General Hospital to implement healthcare Managed Print Services for their specific needs.
Overview
RJ Young provides Yalobusha General Hospital with Managed Print Services to ensure their organization operates at peak efficiency. Through their partnership, RJ Young has helped Yalobusha General further its mission of "Neighbors Caring for Neighbors" in Yalobusha County.
Working with RJ Young has made printing easier.

Eric Olsen, Yalobusha General Hospital's IT Hardware Specialist

Identifying The Problem
Areas of Improvement
Yalobusha General struggled with workplace inefficiency due to problems associated with their printing equipment and supplies. Prior to working with RJ Young, Yalobusha General's IT Hardware Specialist spent nearly half of his day troubleshooting printer problems. Clearing printer jams, replacing ink and toner, and handling regular daily maintenance prevented him from allocating his time to major projects that could benefit the hospital's staff and patients.

Printer toner contributed to another pain point for Yalobusha General. Multiple types of printing devices were located throughout the facility and they required a variety of toner cartridges. Each time a cartridge would begin running low, Yalobusha General's Purchasing department would spend time identifying the correct type of toner needed for the printer, comparing toner prices from vendors, and placing and processing the order. This eventually led to large amounts of storage being dedicated solely to toner and a monthly toner cost of $1,600.
Creating A Solution
Creating a Managed Print Services Strategy
RJ Young recommended Managed Print Services to Yalobusha General to improve their workplace efficiency and productivity. This service provided Yalobusha General with equipment, supplies, service, and repairs for one fixed-monthly fee.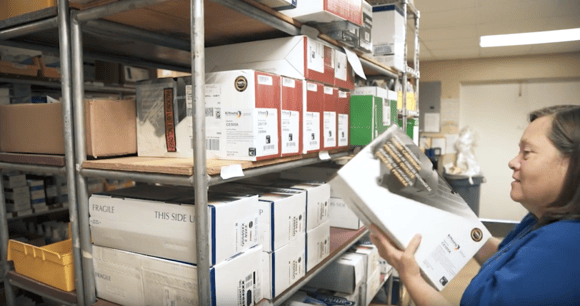 The Results
How RJ Young Implemented the Strategy
Today, Yalobusha General is able to better allocate its resources to tasks and projects that help them grow and better serve their patients due to RJ Young's Managed Print Services. The services and repairs included in Yalobusha General's fixed-monthly payment allowed their IT Hardware Specialist to regain the time he spent on troubleshooting printers and use it on more important work like keeping Yalobusha General's systems up and running.
The Purchasing department no longer needs to identify toner cartridges and compare their costs across vendors. They simply type in the equipment ID of the printer that needs toner into RJ Young's online customer portal and the experts at RJ Young immediately send them the correct cartridge. The quick replenishment of toner meant that Yalobusha General was able to regain the space originally held for toner reserves.
In addition to the time that RJ Young's services save Yalobusha General, they also save money. RJ Young's Managed Print Services enabled Yalobusha General to minimize its costs and spend $1,100 each month for both supplies and services. After working with RJ Young, Yalobusha General Hospital is able to allocate the time and money they save into providing superior care to their patients.
Learn More About the Case Study: Healthcare Managed Print Services Featuring Yalobusha
Contact an expert at RJ Young today to learn how Managed Print Services can help your organization.
Check out RJ Young's other Customer Case Studies and Testimonials.