Blowing the Budget with Printing? Managed Print Services Can Help
Posted on October 06, 2019
When it comes to staying competitive in a thriving industry, businesses large and small need every advantage they can get. Reducing operating expenses is a tried-and-true method for remaining financially viable. There are many ways to positively affect the company's bottom line: hiring the right talent, streamlining office workflow, or implementing managed services to bring specific business processes under control. For businesses that struggle with printing, Managed Print Services offer a way to save time and money while improving the company's print infrastructure and total cost of printing.
Gartner, a leading technology analyst firm, predicts that total printing costs are the last unmanaged business expense for companies, although it accounts for between one and three percent of a company's annual revenue.
RJ Young's Managed Print Services help businesses retake control of their printing budget through customized strategies.
Four Ways Managed Print Services Help Save the Printing Budget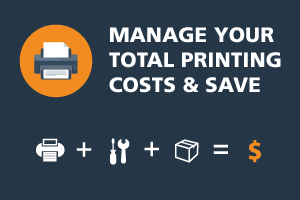 Managed Print Services (or MPS) delivers sizeable savings to businesses through improving the printing environment by making it more efficient, cost-effective, and productive.
1. Improve Print Environment Visibility
Visibility, control, and savings are directly related to the printing infrastructure. With poor visibility, businesses have no way to track or control what gets printed, by whom, where, when, or why. According to IDC, a lack of visibility leaves the door wide open for things like employee personal printing, security issues, or supply overuse.
In contrast, a Managed Print Service eliminates blind spots and sheds much-needed light on precisely what happens in a company's print environment. It can help identify:
The exact print usage of an office or department – in numbers
Which printers are over- or under-utilized, suggesting opportunities for improvement in the physical environment or processes
Who prints what, enabling better security and access control
Overlooked expenses, such as one-off specialty supply purchases
As the saying goes: knowledge is power. Making your print environment visible is one of the first steps to establishing control and a strategy to reduce expenses, especially printing costs.
2. Keep the Waste Bin Paper-Free
An emphasis on environmental sustainability is a core concern for many businesses and their customers. However, it is hard to "go green" in an office where the average employee prints 10,000 pages annually. It's even harder when 45 percent of those pages will end up in the trash within 24 hours.
An MPS program assists companies with their environmental initiatives by reducing the amount of unnecessary printing that occurs and helping companies get the most out of what they print. These benefits represent some of the most significant areas for savings. The IDC found that a managed print service can help an office reduce its printing by 20 to 30 percent. To put those numbers into context, that is the equivalent of four to six reams of paper per employee – per year – which never passes through the printer.
3. Promote Savings with Better Printing Habits
Printing represents a vital component of business processes – compliance regulations in some industries even require that companies handle their documents in hard copy. In such cases, it can be challenging to reduce printing volume. However, it remains possible to reduce printing costs through better printing habits, and an MPS knows all the tricks to do so.
Managed Print Services can help guide a business to develop better printing habits which foster efficiency and resource conservation in the long run. Some strategies may include:
Making sure the company has the right devices for the types of printing it conducts.
Streamlining a print environment with a strategic layout and thoughtful integration software.
Optimizing your printers with the correct settings or configurations.
Introducing mobile printing to aid accessibility and flexibility.
Using remanufactured toner cartridges and the right types of paper.
Supporting the print environment with document management solutions.
Good printing habits support cost savings, no matter how demanding the print environment. A knowledgeable managed service provider excels in helping a company accomplish this.
4. Manage Business, Not Printing Supplies
Printing supplies constitute one of the more visible print-related expenses. Printers need toner, paper, replacement parts, software subscriptions, or sometimes additional hardware to integrate into an office fully. Keeping track of it all is a chore. Likewise, keeping everything on hand takes up valuable real estate in the office which could otherwise be used.
With MPS, a company not only reclaims that office space for other uses but also solves the problem of managing supplies completely. The provider takes over the management of supplies to ensure that an office always has exactly what it needs when it needs it. As a result, a company enjoys the ability to focus on business while resting assured that its printing infrastructure is ready when needed.
---
Improve Office Printing with MPS from RJ Young
Reducing operating expenses is one way in which many companies seek to gain a competitive advantage in their industry. Printing is a vital component to the modern business which makes it critical to establish a lean, efficient print environment which reduces waste and expenses as much as possible. With MPS, printing becomes a much more cost-effective and valuable element of a business.
RJ Young specializes in helping companies throughout the Southeast improve their printing infrastructure with printing solutions. Start a conversation with a process specialist today.