Copier Security Tips for Small Business
Posted on September 06, 2022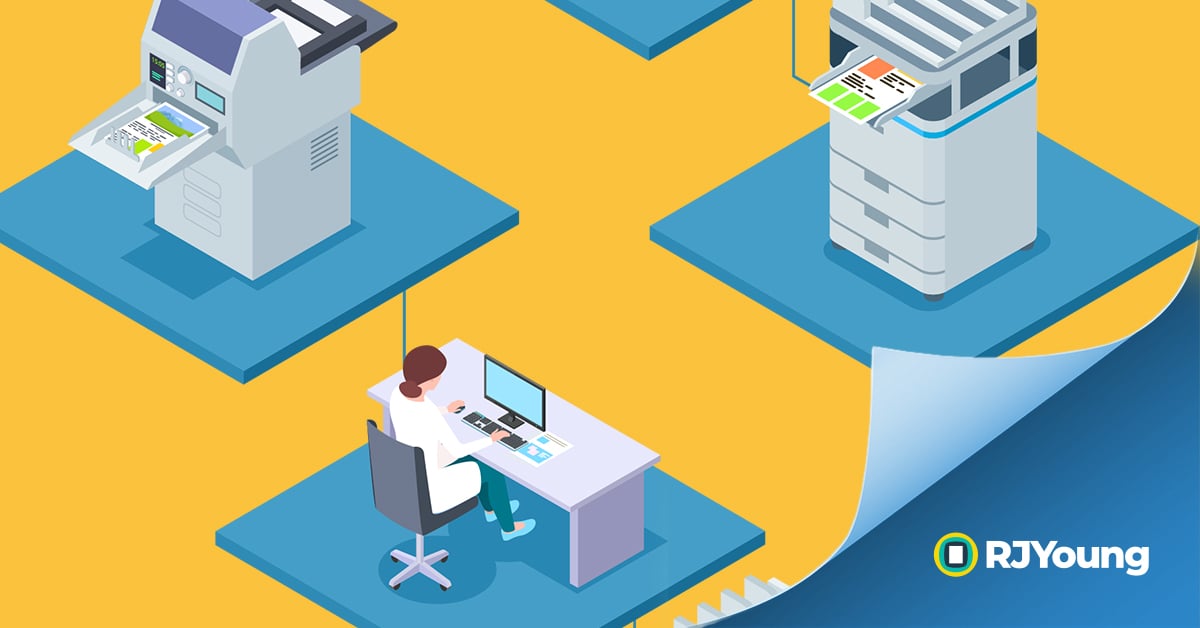 We know you have enough to worry about without thinking about the cybersecurity of your copier. But even though you run a small business, that doesn't mean you're not a target for hackers.
In fact, the bad news is small businesses are primary targets for hackers.
Small and medium-sized businesses (SMBs) are extremely lucrative targets for hackers because they often don't have the large IT security teams that bigger businesses have.
If you do have an IT person on your staff, they are often overworked, and not necessarily able to handle every little need that your company might have. The common area that is overlooked is the lowly office copier.
Why Are Office Copiers Cybersecurity Risks?
Today's office copiers are not like the copiers of yesterday, like the ones you might have seen in the movie 9 to 5.
Remember that scene with Jane Fonda trying to capture all of that paper flying around when she messed up the copier collating function?
The thing is, Jane Fonda didn't have to worry about a hacker getting into the copying machine. She just had to deal with too much paper being flown at her. In retrospect, that's not a bad problem to have, when you consider the major disaster that could occur if a hacker gets into your digital copier of today.
Digital copy copiers are great tools. But precisely because they have advanced features, they can also be cybersecurity risks.
The vast majority of copiers that have been made since 2002 include hard drives. These hard drives can store sensitive data such as personal records or financial information.
Digital copiers that can print, scan, and e-mail have hard drives that are easy targets for the industrious hacker. Types of data that hackers could potentially find on a digital copier include:
private medical records, which should be protected by HIPAA
bank documents and financial statements
student records, which are also supposed to be protected by regulatory requirements
sensitive information about private donors
proprietary information of the company
Tips on Improving the Cybersecurity of Your Office Copier
Here are some tips on making sure that your copiers are secure:
What's on that hard drive?
Cybersecurity should be the first on your mind when you purchase, lease, or return a copier. Make sure that incoming copying machines have been screened for security risks and the hard drive scanned for malware viruses. When returning a copier, make sure that the data has been removed from the hard drive.
Is the location secure?
This might sound rudimentary, but it's surprising how many small businesses don't consider the location of their copier when it comes to its security. If you have a front-facing small business that the public accesses, you will want to keep your copier away from the public. You can hide your copier behind a counter or put it in a backroom, for example.
Why you should maintain access control.
Who uses your copier machine and why is very important. You will want to secure access to your copier using usernames, passwords, and or/pin numbers. Staff must be trained not to share login credentials with others. An auto-logout feature is also useful because it can make sure that someone doesn't accidentally stay logged in on the machine.
Make sure that all copier data is sent over a secure network.
Wi-Fi is very convenient, but it can be a huge security risk. If malware is sent to the copier via a smartphone, this now means that your entire office network is fair game for a hacker.
Managed IT Services Can Help Keep Your Small Business Copiers Secure
RJ Young is an expert Managed IT Services provider, also providing Managed Print Services. We can keep your copiers secure with our Cybersecurity as a Service solution, Sophos. Let us help keep your network, workstations, servers, network traffic, and business secure. Reduce risk and stop threats to your network with a Sophos 30-Day Free Trial.
Does your small business need help with its copier and printer security? RJ Young can help. Contact us today at 800-347-1955 to get help from one of our printing security experts.