What to Look for in Small Business Managed IT
Posted on February 20, 2023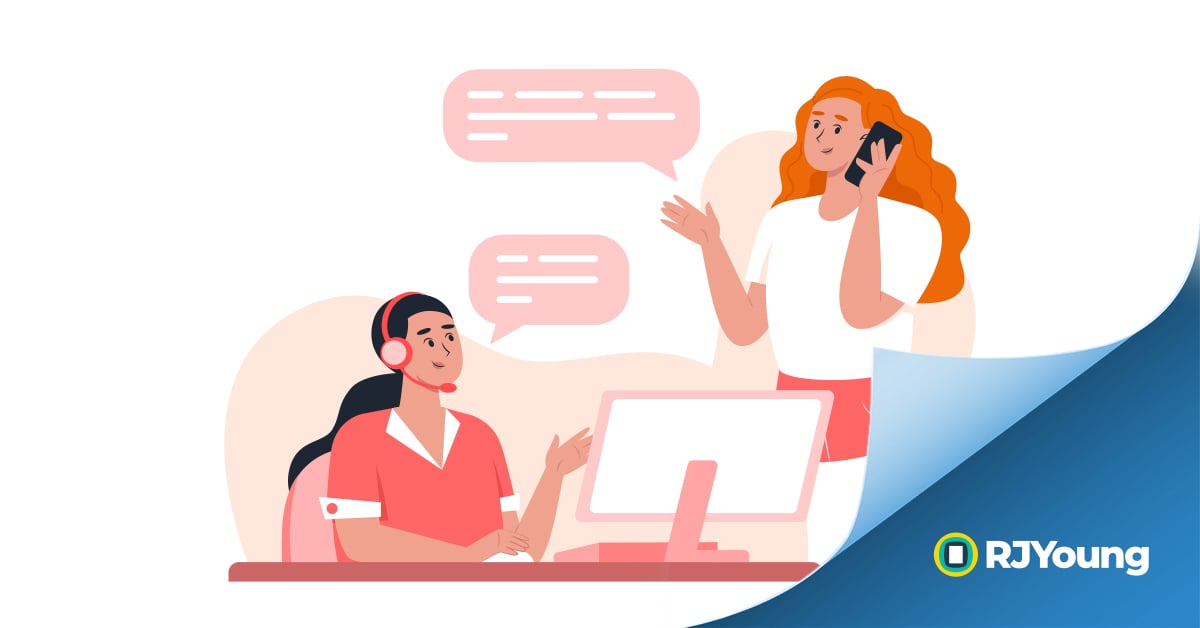 Many small to medium-sized businesses opt to use a technologically savvy individual, such as a friend or family member, to cater to their increasing IT needs - instead of recruiting, hiring, training, and managing an internal IT department, which comes with a great financial cost.
But...that's not a good idea. For obvious reasons.
Alternatively, SMBs can hire a single IT professional to oversee servers, networks, printers, antivirus solutions, and more. But even the best IT person can be overwhelmed if they are expected to manage a lot of IT tasks for a growing business.
This is where managed IT services for small business comes in.
What Are Managed IT Services for Small Businesses?
Managed IT services for small businesses are services provided by an outside company (like RJ Young) that manages and maintains the operation of a business's IT infrastructure. These services include network security, data backup and recovery, system monitoring, and software updates.
The goal of managed IT services is to reduce costs associated with maintaining the IT infrastructure while also increasing technology efficiency and effectiveness. Additionally, managed IT services can help smaller businesses stay competitive in their industry by providing access to the latest technologies.
What Should You Look for in Managed IT Services for Your Small Business?
Managed IT services for small businesses can greatly improve your company's efficiency and productivity. By outsourcing your IT needs to an experienced provider, you can save time and money while ensuring that your systems are running smoothly. Here are some of the features to look for when evaluating managed IT solutions:
IT Infrastructure Administration
The best-managed IT services will support all aspects of your business's technology infrastructure. This includes everything from securing a secure network to troubleshooting complex software applications and hardware issues.
A Strong Technical Support Team
A reliable managed IT solutions provider should provide access to round-the-clock technical support, so if there is ever an issue with your system, you won't have to wait days or weeks before it is resolved.
Data Backup and Recovery
Managed service providers can also help you with data backup and recovery, as well as cloud storage solutions that are tailored specifically for small businesses.
Cybersecurity
The current cyber threat landscape is ever-changing, making it increasingly challenging for small businesses to stay secure. Managed IT can help to secure small business networks from a wide range of cybersecurity threats.
Thus, look for comprehensive cybersecurity solutions for small businesses that focus on identifying and reducing vulnerabilities, as well as protecting data and systems, giving peace of mind that all levels of IT systems are secure.
How Does a Managed IT Services Provider Improve Cybersecurity for Small Businesses?
Since cybersecurity is such a critical topic these days, it's worth exploring further how managed IT can help protect SMB networks. Here's a rough overview of how cybersecurity works with managed IT:
The first step is to assess the current and potential risks to the business's IT infrastructure. After effective threats and vulnerabilities have been identified, managed IT security solutions can be deployed to secure the IT systems, networks, and data. Rock solid managed IT solutions ensure that all user devices, applications, and networks are up-to-date with the latest security patches and software, helping to mitigate the risk of a cyber attack.
Furthermore, your managed IT service provider should offer continuous monitoring and proactive security measures, such as deploying firewalls, anti-malware, and anti-virus programs, to ensure the highest levels of security against threats even before they occur.
By using managed IT, small businesses can be equipped to recognize, respond, and recover quickly when a cyberattack occurs, reducing the risk of a data breach or financial loss. Since cybersecurity is such an important part of IT these days, working with a managed solutions provider that takes a proactive approach to cyber threats is essential.
Are You a Small or Midsize Business Looking for Managed IT Services?
Are you struggling to keep up with the ever-evolving world of IT? Let RJ Young be your partner to ensure you have the most reliable and effective IT systems possible. Our managed IT services provide the customized expertise, attention, and support you need to reach your business goals.
With RJ Young's managed IT services, you will have an experienced and knowledgeable support team on your side without having to worry about hiring additional IT staff members. We are here to make sure your organization has the technology and services it needs to stay ahead of the competition. With us, you won't have to worry about the hassle and confusion that often comes with finding and maintaining your own IT systems - we will take care of it for you.
Our process begins with a comprehensive network assessment. Our engineer will work with your team to identify any existing challenges, as well as your business goals, and create a personalized IT plan to ensure maximum efficiency and productivity. We are committed to using only the most advanced technologies, security procedures, and industry-leading software to keep your organization running at its highest potential.
Are you looking for a managed IT solution for your small business? Let RJ Young help put a plan in place to reach your business goals and maximize your IT infrastructure. Contact us today at 800-347-1955 to get started!