Common Copier Security Risks
Posted on September 26, 2022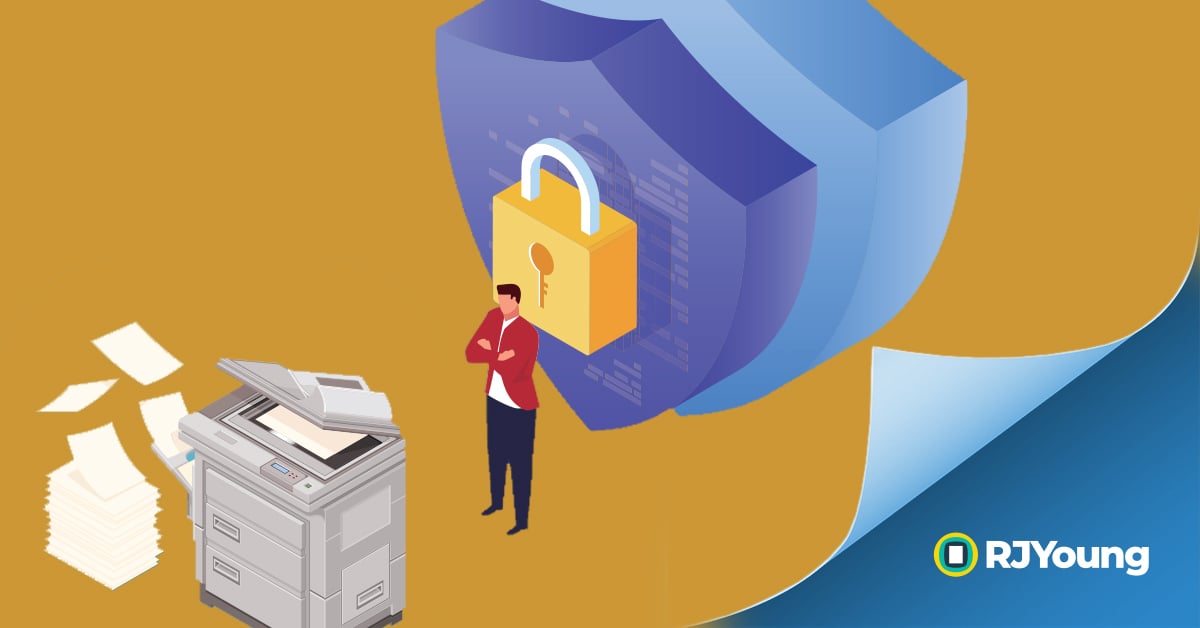 The office copying machine can either be your friend…or your business's worst enemy.
How so?
Copiers are an increasing target of hackers.
Most businesses and organizations have copiers (or multifunction printers with copy functionality). But copiers are often a neglected aspect of cybersecurity focus. The problem is, that not securing your copiers or printers can leave your business open to threats, malware, and stolen data.
Common Cybersecurity Threats to Copiers and Printers
Copiers and multifunction printers (MFPs) face several cybersecurity risks and threats:
Document theft
Physical document theft is a common problem with copying machines that many people aren't aware of. But document theft can also occur "virtually." Business documents can be vulnerable as they are being sent to the copier or MFP via an unsecured Wi-Fi network. Documents can also be exposed if left on the copier hard drive or in the document cache.
Stored data left on old copiers
Be careful when selling or decommissioning copiers and MFPs. Documents can be inadvertently left on a hard drive, which is a huge security problem. Prior to returning a copier or transferring it to another entity, make sure all data is wiped from the hard drive and cache. This is especially important for sensitive information such as financial documents and patient information.
Lack of access control
Access control should be utilized for office copiers and MFPs. This could be the use of security protocols such as a PIN number to access documents from the printer or a physical access card. Usernames and passwords can also be instituted. In addition to leveraging the copier's access controls, setting up a document management solution can help keep documents secure and organized on the client side.
Insecure settings
In addition to access controls, if copier or printer settings aren't properly set up, hackers might be able to get into the machine. You don't want office documents to be inadvertently rerouted or sent to the wrong place.
Vulnerable networks
As mentioned above, an insecure Wi-Fi network can lead to document theft. But a poorly secured network or access port can make your copier or printer into a trojan horse for a malicious hacker. In fact, hackers often look for holes in the security of peripherals like copiers as a way to get into business computer networks. Once in a network, the hacker could potentially get into company databases and files – beyond that which is sent to the copier.
Denial of service attacks
Related to the problem of network insecurity is the denial-of-service attack. A denial-of-service attack or even worse distributed denial-of-service attack (DDoS) can be devastating to a business. A hacker could target a networked copier or printer with a denial-of-service attack, making it and the rest of your network inaccessible.
Malware and viruses
Malware and viruses can be installed on copiers and multifunction printers…and these can be used to get into and mess with the entire office network.
Keeping Copiers Secure
As you can see, much attention needs to be placed on keeping copiers and multifunction printers secure. It's important to follow the best practices of cybersecurity to keep your copier safe. At a minimum, read the manual of your copier or MFP to see what basic security settings are recommended.
"In thinking about security, it's important to keep the firmware up to date as available by the manufacturer. This will minimize the risk by ensuring proper patch management. If an organization is serving a print server across the network, ensuring the underlying operating system and application software are always patched as well. This includes the drivers offered in the printer deployment profiles or other managed devices," said, Jeramy Kopacko, Sr Territory Solutions Engineer, Sophos.
Access controls are very important, especially in larger offices. Make sure that staff members are educated on how to properly send and retrieve documents to the copier. They should also be sure to log out once they are done with the copier – though many copiers these days will also have auto log-off feature to make sure that someone accidentally logging in doesn't cause a security issue.
Managed IT Services Can Reduce Risks to Copiers
RJ Young's Managed IT Services and Managed Print Services can make a huge difference in the security of your copiers and MFPs. Our certified cybersecurity experts will be able to secure your network and also institute systems to keep your copiers functional and secure.
Does your small business need help with its copier and printer security? RJ Young can help. Contact us today at 800-347-1955 to get help from one of our printing security experts.