5 Steps to Creating a Backup and Disaster Recovery Plan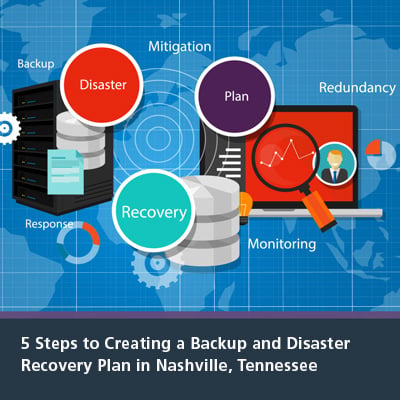 Nobody likes to prepare for the worst, but the worst often becomes a reality when you least expect it. Such is the nature of disasters, and without an adequate recovery plan in place, a business will far exceed the average of $25,000 lost per serious contingency. These 5 steps to creating a backup and disaster recovery plan will help your business be prepared.
5 Steps to Creating a Backup and Disaster Recovery Plan
What is a disaster recovery plan? It constitutes the steps a business takes to get back on track as quickly as possible following a disaster. Good plans leverage technology solutions like cloud services and have robust data recovery procedures in place.
Disaster recovery planning takes on many additional forms, however, a few universal considerations do exist. Here are five things to consider when creating a disaster recovery plan.
1. Be Proactive with Disaster Recovery Planning
Disasters can be natural or man-made, and in Nashville, there are plenty of both. Disaster planning is tricky because it must consider a spectrum of contingencies, and account for unforeseen circumstances. Some examples of disasters to be prepared for include:
Natural disasters
Cash flow interruptions
Cyber attacks
Fires
Intellectual property lawsuits
Structural failure
Power outages
Local disasters
Most business disaster planning guides recommend forming a planning and recovery team. This creates a focused, oriented task force which can methodically move through the stages of drafting procedures for each contingency. While it is impossible to account for every contingency, the most effective business disaster recovery plans are those which allow flexibility and anticipate a wide range of possibilities.
2. Identify the Organization's Critical Functions and Infrastructure
A business impact analysis predicts possible causes and outcomes of disruptions in business processes. It also helps establish critical functions, which the business would cease to run without.
Critical functions take many forms according to the nature of the business. An online retail business might require the ability of users to complete purchases on the website in order to function. Likewise, a critical function for a financial institution might involve the ability to transmit electronic transaction data securely.
Additionally, a disaster plan should document the body of assets upon which those functions rely. This might include:
Intranet or internal servers
Cash registers
Websites
Utilities
Vehicles
Employees
Software
Machinery
Customer or patient records
Make plans to evacuate, recover, replace or back up each.
3. Create Emergency Response Policies and Procedures
The response to an emergency or disaster hinges on several factors, including what the law requires businesses to do. Document the correct procedures for responses clearly, in an easy to read format. Include instructions regarding evacuation procedures, who to contact, where to go, and what steps to take to reduce damage or loss of life.
Nashville managed IT services can provide a major advantage during emergency response. During an emergency, a managed IT provider can provide additional support in responding to and mitigating threats to data. This frees up employees and personnel to address more pressing concerns such as evacuating a facility.
4. Document Backup and Restoration Processes
Draft procedures to create backup operations prior to a disaster as well as policies regarding data recovery. This should include alternative methods to store and access data in the event that some infrastructure becomes compromised.
Managed IT services can help tremendously in this situation as well. Many businesses already leverage cloud services for critical backups for data recovery, a highly recommended strategy.
Managed IT providers support this through frequent backups and keeping backups available should the need arise. In the event of a disaster, a managed IT provider will also be far more organized, and able to step in and help its clients succeed in recovery.
5. Perform Routine Tests and Exercises
Making routine tests and exercises a part of the disaster planning process will benefit the recovery process immensely. Exercising a recovery plan reduces the amount of time employees take enacting it because they will already know what to do.
Testing also helps carefully examine each step of a plan to ensure that it will actually perform as needed. An organization can find out exactly what will go wrong with their plan before it needs to work.
Managed IT services can also help with stress testing a recovery plan by conducting frequent audits and reviews. Companies experiencing rapid growth and change will find this especially valuable. Risks change as businesses change, demanding the need for a recovery plan which can accommodate more variables and unknowns.
Nashville Flood: May 2010
Nine years ago, Nashville was brought to its knees after being struck by devastating floods. Over the course of three days, torrential rainfall led to flooding that affected the area for several months, resulting in a number of deaths and widespread property damage. Rainfall exceeded 19 inches, the highest amount in more than 140 years of recorded history. Some areas accumulated 13 inches of rain within 36 hours. The Cumberland River crested to 52 feet, marking a height that hadn't been seen since 1937 (53.9 feet).
With the floods drenching the city, the Nashville Area Chamber of Commerce reported 2,773 impacted businesses (14,499 workers) at the time of the flood.
During the aftermath and recovery of the Nashville Flood, RJ Young worked with companies whose office equipment had been damaged. RJ Young loaned them what they needed to keep their operations going, so these businesses had more flexibility to deal with insurance companies to get back up and running. RJ Young also provided their own conference space to one law firm, supplying a stable office environment for their attorneys to work. The firm's building had so much standing water, they could not get into their offices.
The RJ Young family worked closely with all customers affected by the flood, ensuring they had all of the necessary information they'd need to work through insurance claims as smoothly as possible.
Do Not Leave Recovery to Chance — Plan Ahead
Well-managed IT services keep a business prepared for the worst. Whether there is a dramatic natural disaster or squirrels quietly chewing through power lines, an organization's survival hinges on its ability to resume normal operations as quickly as possible.
Get started with backup and disaster recovery protection with a disaster recovery plan for an organization's IT infrastructure, contact us to speak with an expert today.