Smart Boards — Intelligently Connecting Your Remote Workforce
Posted on January 07, 2021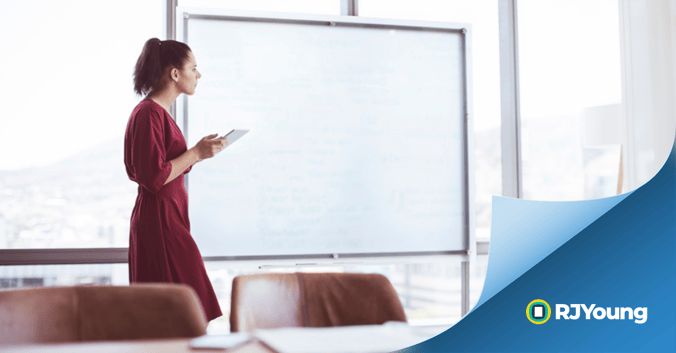 As the coronavirus pandemic continues to bring sweeping changes to the way businesses stay connected with customers, a new challenge is arising — the need to adapt to a virtual work environment.
As more businesses look to remote-work arrangements, some teams are struggling to stay connected. This, of course, diminishes collaboration.
There can be several reasons for virtual communications to stagnate. For example, many teams find it hard to transition to an asynchronous environment, where not only are team members geographically scattered, but they are working from different time zones, too.
Decision-making can also suffer under these conditions as "getting together" gets increasingly more difficult. Group emails and texts don't allow for clear contextual interpretations and can actually be a distraction from other tasks.
If groups do manage to connect via video conferencing tools such as Zoom, there are often significant security issues and technical problems that arise. This causes significant project delays, decreased efficiency, and team frustration.
With these issues in mind, savvy businesses are turning to digital technologies such as interactive white boards — also known as "smart boards" — to improve team dynamics and help remote teams collaborate more effectively.
How Smart Boards Bring Interactive, Intelligent Technology to Your Remote Team
Gone are the days when your teams could pop down to the conference room and meet for a brainstorming session. In this COVID world, decision-makers, managers, and key staff may be separated by both geography and time, making face-to-face communications more difficult.
Smart boards dissolve the issues generated by remotely located staff to bring clear, concise collaboration back within reach, allowing your team to share, edit, archive, and elaborate on ideas seamlessly.
Here's how:
1. Real Time Collaboration for Instant Communication
Smart boards allow collaboration in real time, even when team members are offsite.
Using a touch-screen flat panel with an intuitive interface, meeting leaders can share ideas and information with many devices including smartphones and laptops.
Many models offer a significant number of connections — often up to 50 — so you can easily accommodate expansive teams.
2. Lower Frustration with Intuitive Controls
Users experience a shorter learning curve and less frustration with interactive whiteboards that work easily with common operating systems and applications, such as Windows 10 and Microsoft Office.
Writing, drawing, editing, and sharing become second nature with one-touch controls and natural fingertip gestures. It allows for quick rotating, zooming, and erasing of information, with no lag time between finger/pen movement and the appearance of data on the screen.
3. Flexibility and Security
Smart boards are available in several sizes and resolutions, all to meet the widest variety of collaborative needs. From as small as 21.5" to sizes up to 86," there is a flat-panel display or even a projector-plus-whiteboard setup that will fit your goals and budget.
While powerful visuals can help amplify creativity and productivity, today's smart boards come with significant security enhancements including passwords, encryption layers, scans for unauthorized usage, and more.
These security tools vary depending on the make and model of the whiteboard you choose. Most modern smart board manufacturers have placed a premium on providing necessary security necessary to protect sensitive information that may be shared in a virtual meeting.
Trust RJ Young with Virtual Collaboration & Smart Boards
Today's business processes are rapidly changing — and none more so than the move from in-person to online collaboration.
At RJ Young, we have curated the latest in interactive whiteboard technology to bring you the greatest variety of choices for your virtual workplace.
"We partner with leaders in interactive display technology, allowing us to offer our clients custom-designed interactive display solutions that will amplify creativity and enable fast and accurate sharing of information while keeping critical information protected.."

Steven Jenkins, Technology Sales Consultant, Memphis, TN
Our in-house team of IT specialists can analyze your current infrastructure and communication needs. From there, we'll develop a targeted solution that will help your staff stay connected — and productive — as your business repositions itself to succeed in the socially-distanced world we now live in.
Bring seamless collaboration and communication to your remote workforce. Touch base with an RJ Young consultant and discover how an interactive white board can take your virtual meetings to a new — and more productive — level.
---