5 Benefits of Interactive Whiteboards in the Classroom
Posted on February 17, 2020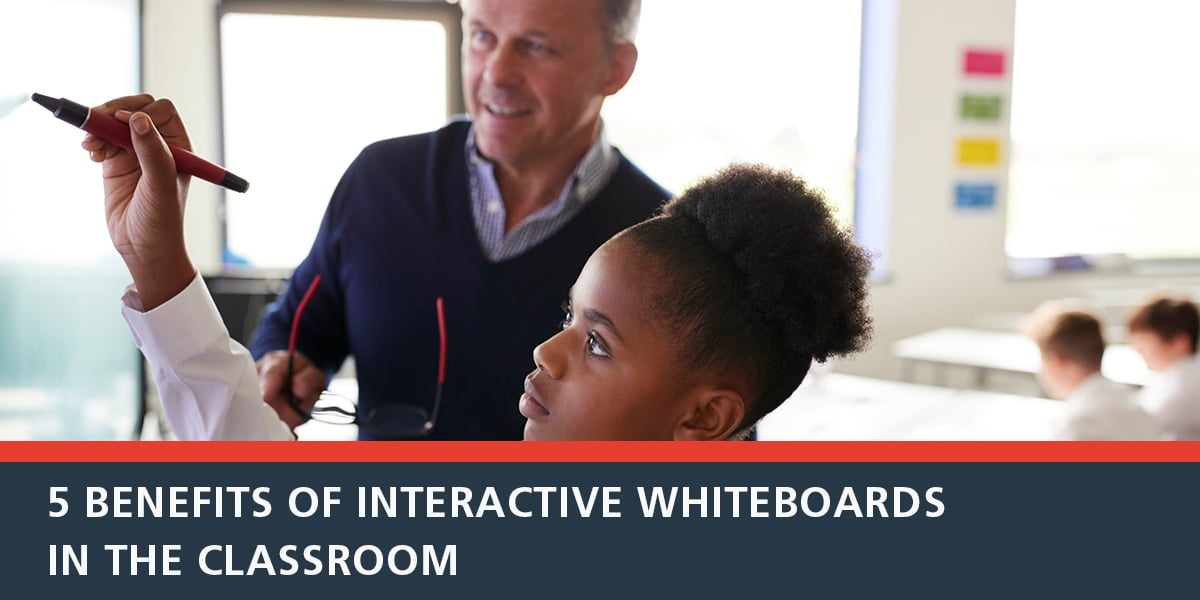 The learning experience is becoming richer and more dynamic, thanks to tools like interactive whiteboards in the classroom. Their steady introduction into classrooms across the country is part of a greater tide that is changing the nature of education. Education technology, or EdTech, helps campuses rethink the way teachers present their lessons to create more effective learning opportunities for students.
Interactive whiteboards are already popular in the business world. There, they are driving collaboration, engagement, and new levels of productivity among teams. Interactive whiteboards benefit both lower and higher education establishments in countless ways.
---
Enrich the Learning Experience with Interactive Whiteboards in the Classroom
The days of blackboards are long gone. Even the era of dry erase boards is coming to an end. Interactive whiteboards are fundamentally changing what education looks like in the 21st century. Case studies like that of Promise Academy show that interactive whiteboards enhance a student's learning experience significantly. A classroom equipped with an interactive whiteboard can:
1. Accommodate Multiple Learning Styles
Education has overwhelmingly favored a particular learning style, putting many others at a disadvantage. An interactive whiteboard helps students learn in a way that best suits them. The many apps available to these devices allow learning in multiple styles. Audio, visual, and kinetic learners can watch and listen to material or even follow along on their own synced devices in real-time.
Materials can be easily modified to be accessible for both students and teachers. For example, users can increase the text size or color on an interactive whiteboard to help with visual challenges and access the material in a format that works best for them.
2. Encourage Student Engagement
Interactivity has been well studied across many industries, including education. This 2019 study showed that interactivity, engagement, and student performance are positively linked in a classroom environment. The more interactive the lesson, the more likely that students will engage with and learn the material effectively.
If the use of technology does not get students' attention, then the interactivity will. Interactive whiteboards inspire student engagement in several ways. For example, interactive whiteboards can:
Support styluses that allow students to write, draw, and edit directly on the screen making it simple for students to interact during a lesson
Foster real-time collaboration and idea-sharing in a digital environment within the classroom or offsite location
Leverage interactive apps to illustrate concepts and further teach interactive lessons
3. Reduce Classroom Costs
Budgeting for schools can be tough, and teachers are often asked to do more with less to maintain a strict budget. However, that can result in sacrificing education quality, causing everyone to suffer.
In contrast, a thoughtfully placed interactive whiteboard in a major lecture hall or critical classroom can help reduce operating expenses. With digital solutions, an educational institution will spend less money on papers, printing, or supplies for a lesson. Likewise, interactive whiteboards come loaded with numerous apps plus access to an app library. Rather than paying costly subscriptions to digital education resources, teachers can use these free apps to build their lessons. That means less time fretting over money spent and more time spent on teaching.
4. Digitize the Lessons
The world is speeding towards a hyperconnected, digital environment where information and resources are available on demand. However, schools have notoriously lagged in technology, but interactive whiteboards can help bridge this gap.
With an interactive whiteboard, a teacher can effortlessly digitize lessons to make them easier for students to follow along on their own devices. Materials can be uploaded to cloud storage, where these interactive lessons are always accessible. Together, a more centralized and streamlined learning environment is created, where students can rapidly ask questions and access the answers they need in real-time.
5. Improve Student Career Preparation
According to the Brookings Institute, at least 40 percent of all career fields require "medium digital skills." These workers need to be comfortable navigating digital technology. Likewise, between 2002 and 2016, the number of careers requiring advanced digital knowledge rose from 5 percent to 23 percent.
Today's students will be expected to have full familiarity with modern digital tools when they reach their careers. An interactive whiteboard can be one of the many tools that helps a student gain that critical familiarity required to prepare them for the future.
---
Introducing Ricoh Interactive Whiteboards with RJ Young
Interactive whiteboards in the classroom deliver many significant benefits for both higher and lower education. It is a modern touch capable of inspiring engagement, excitement, and inclusivity for students with different learning processes. As schools look for ways to bring the learning environment into the future, many are turning to interactive digital solutions like interactive whiteboards.
These modern, sleek, and powerful devices enhance education quality and send a strong message about an institution's commitment to preparing its students for the future. Available in a variety of sizes from 21.5" to 86", RJ Young offers a size to fit whatever your specific needs are no matter the size of the establishment. Thinking about putting interactive whiteboards in the classroom? RJ Young can help!
RJ Young is pleased to partner with Ricoh to offer some of the most advanced interactive whiteboards available. Contact RJ Young today to discuss if an interactive whiteboard is right for you.