Case Study: Interactive Whiteboards in the Classroom
Posted on November 19, 2019
About Promise Academy
Promise Academy is a K-5 charter school with over 400 students and 45 faculty in Shelby County, Tennessee. Their mission: Our central and only work is to teach and inspire the mind, body, and spirit of our children so they can rise above the rest and succeed in any academic or cultural setting. Promise Academy is one of the oldest charter schools in Memphis and has led the way in charter education and continues to be a leader in the community. To learn more about interactive whiteboards in the classroom read on.
---
Overview
RJ Young partners with Promise Academy to provide innovative Interactive Whiteboard technology to assist teachers and engage students.
---
Identifying The Problem
Areas of Improvement
The previous technology was not meeting the needs of teachers. There were too many issues with equipment; including the need for copious wires, extra laptops, keyboards, and external speakers. The previous whiteboards proved to be too cumbersome and teachers were increasingly frustrated.
---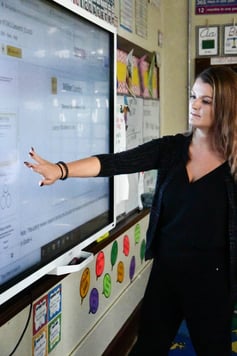 Creating A Solution
Installing Interactive Whiteboards
RJ Young installed the Ricoh Interactive Whiteboard and now Promise Academy has 30 with plans to expand to their sister charter school. Every classroom (2nd-5th) has an Interactive Whiteboard that contains all equipment and software for teachers to easily integrate into their lesson plans. Teachers incorporate the interactive whiteboards in the classroom to take attendance, conduct behavior reward programs, view and participate with lessons and worksheets, watch educational videos, play educational songs, exit tickets, and much more.
---
The Results
How RJ Young Implemented Whiteboard Technology
With RJ Young's Interactive Whiteboards, Promise Academy has been able to encourage innovative, hands-on collaboration. This user-friendly, streamlined technology is dependable and has everything a teacher needs all in one place. Teachers are able to pull up a student's work from their tablet to display on the whiteboard thus achieving a paperless classroom. Students can show their work on the whiteboard creating an interactive experience that enhances student learning. Introducing technology to elementary school children sets them up for success in the future. As technology advances, the whiteboard technology does too, as teachers have access to the latest software. Ricky Richardson, Director of Technology at Promise Academy said, "If we need something, all I have to do is describe the idea and RJ Young will come up with a solution that fits."
---
Learn More About the Case Study: Interactive Whiteboards in the Classroom Featuring Promise Academy
Contact an expert at RJ Young today to learn how Interactive Whiteboards can help your business or educational organization.
Check out RJ Young's other Customer Case Studies and Testimonials.