4 Document Imaging Resolutions for the New Year
Posted on December 29, 2019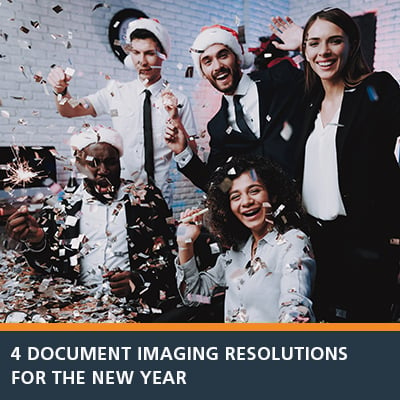 With 2020 just around the corner, it is time to eliminate those paper-based processes and move to a digital document management system. Document imaging is the practice of using equipment like scanners to take a picture of information contained in another form (usually paper).
There are many advantages to converting paper to digital files through the use of document imaging software. Document imaging plays a massive role in several critical business functions, including record-keeping, archives, and even risk management.
With the new year right around the corner, forward-thinking businesses are starting to plan for next year. From trade wars to innovative new technology, 2019 was a wake-up call across the business world. Companies are now looking for ways to adapt, survive, and thrive in whatever conditions 2020 may bring. For many, that means reconsidering the technology they are using in their office, particularly their document imaging solutions.
Technology such as scanners, printers, and copiers are quintessential devices in the successful operation of any business.
Here are 4 reasons your business should make document imaging a goal for 2020.

4 Reasons to Make Document Imaging a Goal for 2020
Document Imaging software is a cost-effective solution that assists with storing and managing everyday files and digital assets used in business processes. It can transform an office environment into an efficient and secure workplace. Consider making one or all of these a new year's resolution.
1. Make 2020 the Year of Security
In 2019, the business world saw an extraordinary rise in the amount of cyberattacks. From ransomware to frighteningly clever phishing attacks, enterprise-level businesses and small businesses are finally getting the message that it's time to take security seriously. According to the 2019 Official Annual Cybercrime Report (ACR) businesses fall for ransomware attacks every 14 seconds.
Make 2020 the year of security by improving the safety of office document imaging devices and the data that passes through them. Go a step further by leveraging those devices to enhance the company's disaster recovery and risk management strategies. Make digital copies of essential business information and keep it stored where it remains secure yet accessible, should the need arise.
For companies feeling particularly proactive, take document security a step further by enlisting the help of a managed service provider, such as RJ Young. Managed Service specialists can find the blind spots in a document management system or print environment.
2. Declutter: Digitize the Office with Backfile Conversion
Backfile conversion is the act of digitizing physical documents using a high-speed document scanner. These devices convert filing cabinets full of documents into digital images that are searchable, collated, and securely stored in the cloud. By converting your physical documents into digital format, it also provides a permanent answer for how to keep the workplace free from clutter.
Most businesses have filing cabinets full of documents that range from resumes from job seekers to bank statements and letters from legal. While companies need to keep these documents, they also take up physical space and represent a weak point in a company's overall data security plan. Physical documents are easy to lose, steal, and destroy. Backfile conversion helps avoid all of this by creating digital files that are easily organized and available during disaster recovery.
3. Emphasize Data-Driven Decision Making
In the cutthroat business world of the 21st century, the competitive edge often goes to whoever can seize an opportunity first. On a practical level, that means a company needs to have access to its data and information on-demand, at a moment's notice. There is no time to go searching through filing cabinets trying to find a particular folder or document. Having your business documents organized and indexed makes it easier if you were to get audited.
Data-driven decision making is the way of the future, and soon all businesses will rely on it to guide them forward. With the rise of big data, companies are handling more and more data at an even faster rate. They not only need to sift through, analyze, and store this material, but they also need to be able to use it in a business sense.
Make 2020 a year of data-driven decisions, encourage employees to take advantage of modern tools at their disposal, which document imaging capabilities support. Say goodbye to blind guesses.
4. Reduce Office Paper Usage
Despite shifts toward more digital tools, the average office worker still uses some 10,000 sheets (20 reams) of computer paper each year. Not only does that generate a tremendous amount of waste, but it requires huge amounts of resources, too. It takes an astounding 47 gallons of water to produce a single ream of paper. That's over half the volume of a standard bathtub.
Reducing paper usage is one of the easiest – and most impactful – ways to mitigate a company's environmental footprint. From eliminating unnecessary printing to optimizing the digital environment, make 2020 all about getting away from paper-based documents. A company can help save the planet by reducing its paper usage while amplifying its productivity with modern technology.
---
Improve Business with Better Document Imaging
Document imaging software can transform an office environment into an efficient and secure workplace. It also plays the role of a security guard in business processes. From capturing incoming documents to assisting with risk management and disaster recovery, having the right technology sets an office up for success. As the year draws to a close, get up to speed with the latest document imaging technology from RJ Young, and discover how it supports and streamlines the company's document management solutions.
RJ Young is a proud provider of office productivity solutions. Whether you need hardware or software for your document needs, we'll help you put a strong foot forward at the start of 2020.
Contact RJ Young today to learn more.