Simplify Your HR Processes with Document Management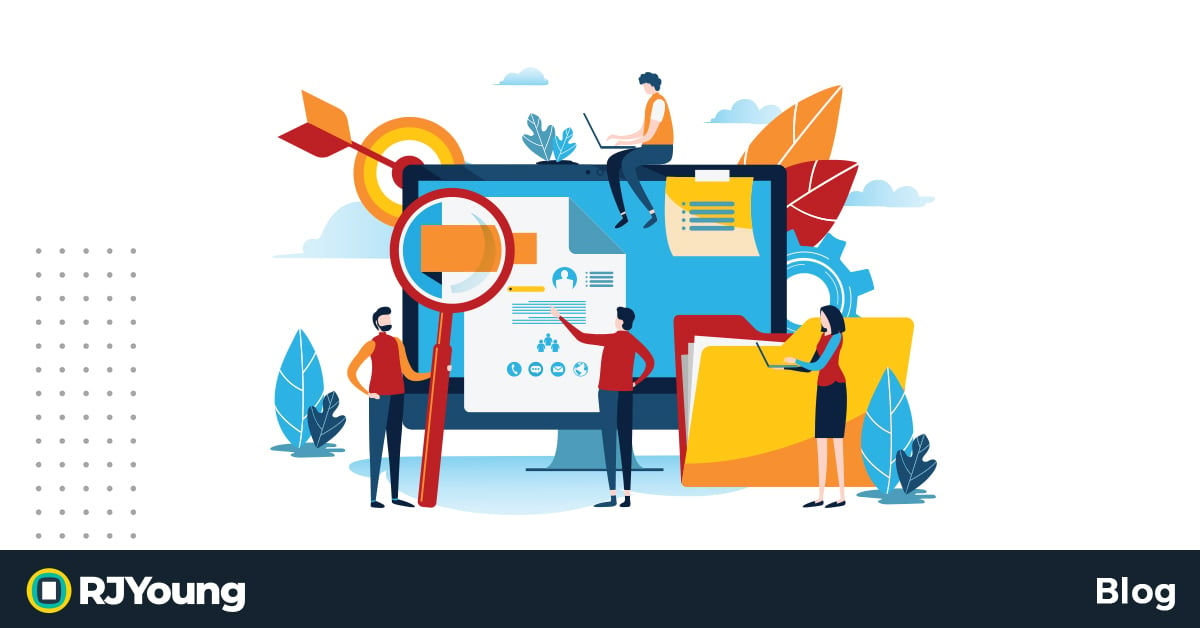 Human resources is a critical part of any organization. From recruiting and hiring the best talent to managing employee benefits and payroll, HR plays a vital role in ensuring the success of a business. However, HR professionals are often overwhelmed with administrative tasks, such as managing and organizing employee records, performance evaluations, and other important documents. This is where document management systems (DMS) come into play.
A document management solution is software that helps businesses manage their documents and records electronically. It automates the process of capturing, indexing, and retrieving documents, reducing the need for manual data entry and increasing the efficiency of HR processes.
"When you select a solution provider like RJ Young, you've got a highly skilled team on your side. Their expertise in implementing DMS systems across a wide range of industries means that your path to HR digitization will be a fast and seamless one." Michael Gale, Senior Sales Director, DocuWare.
How Document Management Can Help Human Resources
DMS software can help simplify HR processes and improve overall productivity. HR teams can benefit from document management solutions in the following ways:
Document Management Eliminates Paper-Based Processes
One of the biggest challenges HR professionals face is managing paper-based processes. Traditional HR workflows involve numerous forms and documents, including job applications, offer letters, employment contracts, performance evaluations, and disciplinary actions. Managing these documents manually can be time-consuming, error-prone, and create a cluttered workspace.
A cloud-based DMS solution can help eliminate paper-based processes and streamline HR workflows. With document management, all documents can be stored and accessed electronically from a centralized location. This eliminates the need for manual data entry, reduces the risk of lost or misplaced documents, and provides instant access to critical information.
Document Management Automates Document Capture and Indexing
Capturing and indexing HR documents can be a tedious and time-consuming process. Paper-based documents would previously require manual data entry, which can be prone to errors and delay the document management process. DMS automates document capture and indexing, making it faster and more accurate.
A good document management solution can use optical character recognition (OCR) technology to scan and capture text from paper-based documents, converting them into searchable digital files. This eliminates the need for manual data entry and makes it easy to find and retrieve documents. With DMS, HR professionals can also automate document indexing by assigning keywords, tags, and metadata to documents, making them easier to locate and categorize.
Document Management Improves Document Security
HR documents often contain sensitive and confidential information, such as social security numbers, medical records, and performance evaluations. Traditional paper-based processes are vulnerable to security breaches, such as theft or loss of documents. DMS can help improve document security by providing secure storage and access control features.
With document management systems, HR professionals can set up access control rules, ensuring that only authorized personnel can view and edit documents. Robust DMS software also uses encryption and other security measures to protect documents from unauthorized access and cyberattacks. This ensures that sensitive HR data is kept confidential and secure.
Document Management Streamlines Employee Onboarding
Employee onboarding is a critical HR process that can be time-consuming and cumbersome. New employees must fill out numerous forms, including W-4s, I-9s, and benefit enrollment forms. These forms must then be reviewed, approved, and filed in the employee's personnel file. With a DMS, HR professionals can automate the employee onboarding process, reducing the time and effort required to onboard new employees.
Document management allows new employees to complete their paperwork electronically and submit it online. The system can then automatically capture and index the documents, eliminating the need for manual data entry. HR professionals can then review and approve the documents electronically, streamlining the employee onboarding process.
Document Management Automates Performance Evaluations
Performance evaluations are an essential part of HR management. They provide feedback to employees, help identify areas for improvement, and facilitate career development. However, traditional paper-based performance evaluations can be time-consuming, prone to errors, and difficult to manage.
Document management can help automate the performance evaluation process, making it faster and more efficient. With a DMS, HR professionals can create electronic performance evaluation forms that can be accessed and completed online. The system can also automate reminders, ensuring that performance evaluations are completed on time. A document management solution for HR can also provide alerts and notifications to managers, notifying them of upcoming evaluations and providing access to the necessary forms and documents.
Document Management Improves Compliance
HR management is subject to numerous federal and state regulations, such as the Fair Labor Standards Act, the Americans with Disabilities Act, and the Family and Medical Leave Act. Failure to comply with these regulations can result in costly fines and penalties. Document management can help HR professionals stay compliant by providing tools for managing compliance-related documents and records.
An HR DMS can automate compliance-related workflows, such as tracking employee hours, managing FMLA leave requests, and recording workplace injuries. The system can also provide audit trails, documenting compliance-related activities and ensuring that HR processes are in compliance with regulatory requirements.
"As a global company with Partners across the US and around the world, we are well-versed in how compliance relates to the credibility and reputation of your business. We offer our Partners a DMS solution that strictly adheres to national, international, and industry standards because data security is a top priority for all of us." Michael Gale, Senior Sales Director, DocuWare.
Why Your HR Team Needs a DMS Solution
Document management is a critical tool for HR professionals. It can help streamline HR workflows, improve document security, and ensure compliance with federal and state regulations. By automating document capture and indexing, eliminating paper-based processes, and automating workflows, DMS solutions can help HR professionals focus on more strategic tasks and improve overall productivity. With a document management system, HR professionals can simplify HR processes, reduce administrative tasks, and ensure compliance, ultimately improving the success of the organization.
Want to Find Out More About Document Management for HR? Watch Our Free Webinar
Looking for the best document management system for HR? RJ Young's DocuWare for Employee Management revolutionizes the way employee management is handled by digitizing, centralizing, and organizing all HR documents securely in a searchable repository. With the user-friendly DocuWare solution, HR teams can optimize their processes by utilizing pre-made digital workflows and web forms for every step of the employee journey - from applicant tracking to onboarding, performance reviews, and time-off request management.
RJ Young has produced a free webinar called Simplify Your HR Processes With Digital Employee Management, hosted by Mark Turner, Enterprise Solutions Specialist and Mike Reno, Regional Sales Manager.
Check out the free webinar here: HR Webinar
RJ Young has extensive experience setting up and maintaining DocuWare DMS solutions to meet the HR needs of companies large and small. We're here to help your business thrive with smooth HR operations.
Looking to simplify your HR processes? Learn how document management can help streamline your HR tasks, reduce errors, and save time. Contact RJ Young today at 800-347-1955 for a consultation.