Which Features Should I Look For In a Business Copier?
Posted on January 22, 2019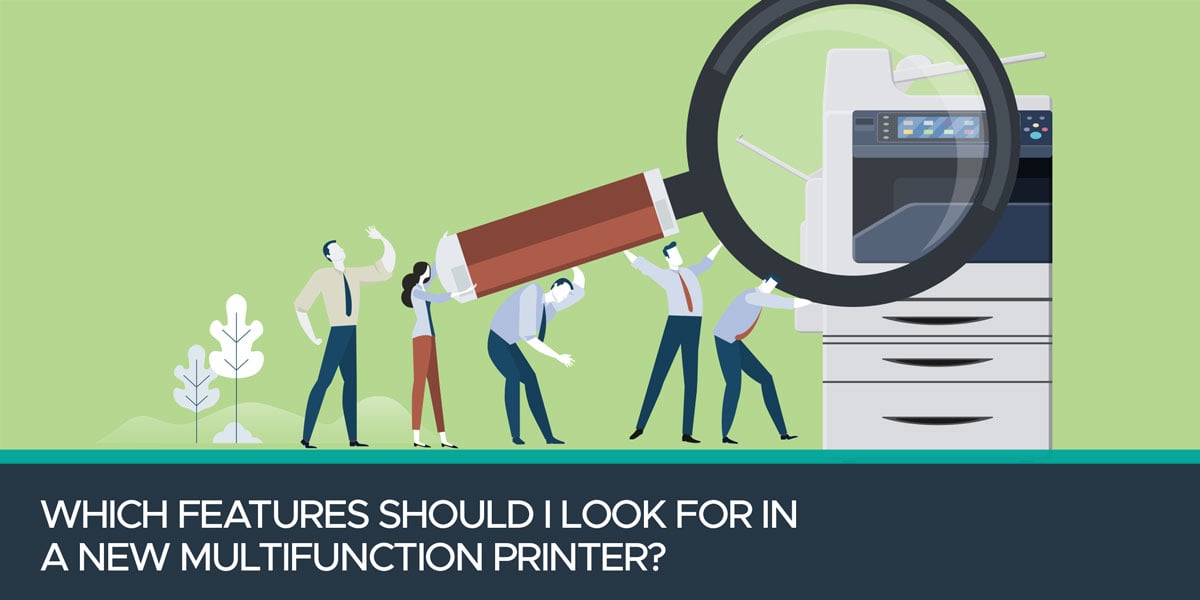 Almost every company has an old office printer that isn't working the way it should. Perhaps it's showing signs that it is coming to the end of its life or maybe it's time for a new business copier with better, more modern features. In either case, shopping for a new business printer can seem like a daunting task for organizations that haven't been in the market for a while. The office printer has come a long way in the last few years and the number of features a new multifunction printer offers may come as a surprise.
Connectivity is King in Today's Office
There was a time when all an office printer had to do was print. Today, an office printer is a hub for productivity. Printing is just one of the many tasks people expect their new multifunction printer to perform.
One important feature to look for is connectivity to apps or services. Cloud storage has grown in popularity and many printer manufacturers recognize this. If team members use one of the top cloud storage services, then a new multifunction printer will most likely be able to connect with that service. However, team leaders will want to confirm the printer's ability to connect prior to making a final decision.
Connecting with these services can save a company both time and money. Scanning documents for easy sharing on cloud storage drives can boost productivity and reduce the need for printing multiple copies for the next big meeting. Being able to pull documents directly from the cloud for printing is also much easier than downloading the document to a computer, printing, and then walking to the printer to pick up the document.
How Much Work Does an Office Printer Do?
Small business copiers and printers come in all shapes and sizes to meet the needs of a wide range of businesses. Printers often have a pages per minute (ppm) measurement as a part of their spec sheet. This number can help determine the right printer for a growing business.
For example, an office printer in a small office of three people who only print a few pages per hour is not the same office printer deployed in an office with 15 people who print much more throughout the day. Consider team needs for printing, and then look for the small business printers that most closely satisfy those needs.
For light printing needs, this simple exercise could prevent a company from spending unnecessary money on a printer that is overkill for their office. For heavy users, finding the right printer to handle output will save them from a lot of future stress and frustration.
Go For the Touch Screen
Having a bright, beautiful touch screen on a new multifunction printer is an absolutely essential feature with today's printers. Touch screen technology is now standard in almost every consumer tech product and most users are as familiar with a touch display as they are with their keyboards.
In addition, with so many features packed into a new multifunction printer, quick and easy access to complete the task at hand is vital. A touch screen allows users to quickly find the feature they need, complete their request, and move on to the next job.
Most importantly, touch screens are customizable. IT professionals can set the screen to show the features and services most frequently used so that most tasks only require a few taps.
How Does It Integrate with Mobile Technology?
So much business is now done using smartphones and tablets. In fact, 77% of Americans own a smartphone, and 92% of Americans aged 18 to 29 own one. Being able to seamlessly send documents from a mobile device to a new business copier or printer is an essential feature for small business printers that promise improved productivity.
If an office operates on a smartphone just as much they do on a laptop or computer, then being able to print from a phone should be near the top of a most-wanted features list. In addition, this allows mobile or remote employees to print to the office multifunction printer without actually having to stop into the office.
Still Searching for the Perfect Office Printer?
Keep the current needs of the team in mind when searching for a multifunction device, but also consider where the department or company will go in the future. Will cloud storage become a part of the business, or is mobile functionality important? Buying a new business copier is a big decision that affects the productivity of a team for the foreseeable future. Making the right choice is important to ensure that workflows run even more smoothly than before.
Still wondering which multifunction printer is right for you? Contact us at RJ Young to speak with an expert product advisor who can help you narrow down your business copier options and select the perfect device for your needs.