What HIPAA-Compliant Printers Are Available for Leasing?
Posted on November 14, 2022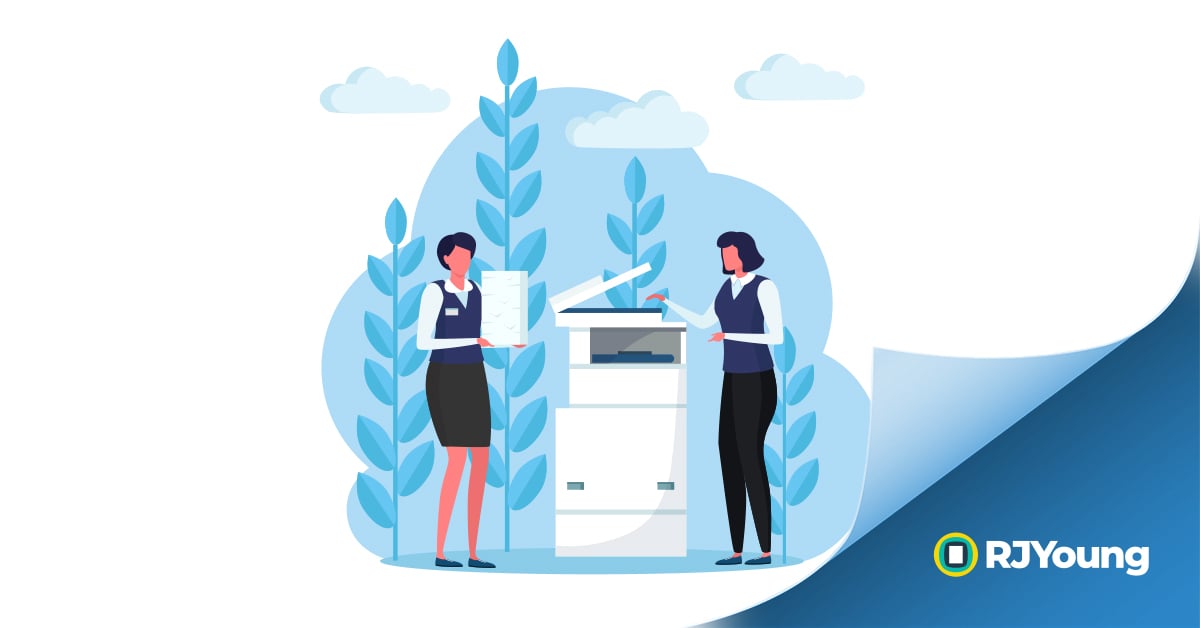 It's 2022 and we're all still up to our ears and paper. This includes healthcare organizations.
Despite some of the moves to electronic medical records (EMR), healthcare organizations and doctor's offices still need to wrangle paper. Patients often prefer to fill out their health history forms with a pen and a clipboard rather than online. Paper printouts are also often necessary for providing patient instructions following an appointment. This can be especially true of older patients who may not be as comfortable dealing with computer files for critical health instructions.
Health Insurance Portability and Accountability Act (HIPAA) Compliance and Costs
The Health Insurance Portability and Accountability Act (HIPAA) is an important regulation that all healthcare providers need to abide by. It outlines strict requirements for the handling of patient information data. These requirements don't just apply to electronic information, they can also apply to printed paperwork.
Even in the new era of EHR/EMR, plenty of paper still needs to be printed and distributed. Managing the output and costs poorly can mean lost profit and increased risks with HIPAA compliance. Being out of compliance with HIPAA isn't a good idea – it may result in fines. But following HIPAA can also require some financial investment.
Furthermore, time and time again, printing represents the largest underreported expense a business has. Managing printing costs in-house can be daunting, especially with a large printer fleet. And if printers need to be maintained or upgraded to boot, this just adds to the costs.
The Benefits of In-House Leasing of HIPAA-Compliant Printers
One of the ways your healthcare organization can save money is by leasing instead of purchasing printers and multifunction printers (MFPs). Regulatory compliance requirements can evolve and change over time and keeping up with these changes can be challenging.
Older equipment may not be compliant with the newer regulations and guidelines. Yet investing in new equipment can be an expense that you might not want to commit to due to changing technologies and regulations.
Older printers are often more susceptible to hacker attacks and intrusions, especially if they are connected to the Internet.
In-house printer leasing of HIPAA client printers can make it a lot easier to keep up with regulations and security needs.
What Is In-House Printer Leasing?
When you lease a printer from some companies, you are sometimes actually signing a lease with another third-party company. This means that if you need to change printers, you'll need to sign a new lease that may be with a different third-party company with different lease terms.
With RJ Young, you benefit from "in-house" printer leasing. By "in-house" we mean that we administer the printer lease in-house on our end. This means that you won't have to worry about printer lease terms changing dramatically each time you want to upgrade a printer.
With in-house printer leasing, we can create a leasing program customized to your needs.
Types of Available HIPAA-Compliant Printers
There are several HIPAA-compliant printers available. Here are a few options:
Canon Printers Zero Trust Security
Canon offers what they call "Zero Trust Security for HIPAA Compliance." Their hardware and software is designed to facilitate HIPAA compliance with cybersecurity best practices. These security measures include zero trust functionality and endpoint resilience.
Kyocera Compliance & Security Solutions
Kyocera offers special security functions to enable HIPAA compliance. Their Print&Follow job release feature keeps print jobs locked down until the owner gives the green light. Kyocera also offers swipe authentication, which is commonly used in hospitals, to provide rapid access to printers and remove the need for PIN numbers. Audit reports are also available to help maintain HIPAA compliance.
Brother Printers Compliance & Security
Brother multifunction printers are also designed to meet HIPAA security recommendations. For example, device icons are customizable, so features can be easily disabled to improve security. Icons can even be set up to reproduce a common workflow to avoid sending sensitive documents to the wrong location.
In-House HIPAA-Compliant Printer Leasing
RJ Young can help your healthcare organization with HIPAA-compliant printer leasing. As an in-house leasing provider, we can help craft a customized printer plan that can be adjusted to meet future needs. We also have the expertise to recommend the best printer solutions for your clinical practice.
If you need HIPAA-compliant printers, RJ Young offers in-house printer leasing customized for your needs. Contact us today at 800-347-1955 to speak to one of our printer experts.