Paper Guide: The Best Small Business Printer Paper Options
Paper choice is incredibly important when it comes to ensuring the quality of a printed pieceThe type of paper you choose can have a significant impact on the presentation and quality of your printed document. With so many different types, sizes, and attributes to consider, it can be difficult to determine the correct paper to use with your standard office printer. Read on for a printer paper buying guide and learn more about the best paper options for your small business printer.
---
Printer Paper: Different Attributes
Printer paper can come in a variety of weights and finishes. You need to understand the difference between them to ensure you choose the correct type of paper for your printing needs.
Paper Finish
Paper finish refers to whether the paper is coated or uncoated. There are a variety of coating finishes and specialized uncoated papers, but all paper falls into one of these two categories.
Coated paper has been thinly covered with a hardened clay material. The coating added to the surface of the paper improves brightness, smoothness, and adds a shiny coating. It also makes text and images display sharper and colors denser. Coated papers are covered with gloss, semi-gloss, or matte finishes.
Uncoated paper has a non-glare surface and is absorbent. This type of paper has nothing coating its natural fibers and absorbs ink easily. Uncoated paper is easy to write on and is generally used for things such as stationery, books, envelopes, newsletters, etc.
Paper Weight
Paper weight in the United States is typically measured in pounds (lb), which is the actual weight of 500 sheets of the "basis size" of paper you are referencing. Even after the paper is trimmed to a smaller size, it is still categorized by the weight of its basis size sheet. Since the basis size may vary, comparing paper weights can be tricky.
When 500 sheets of bond paper at its basis sheet size of 17×22 inches weighs 20 pounds, that paper is still identified as 20lb paper even after it is trimmed to the familiar 8.5×11 inch size. For example, 28lb multipurpose paper will likely not be the same weight or thickness as a 28lb premium or card stock paper. Therefore, the paper weight does not change, even if the paper size does.
Paper in points. One tricky thing to remember is paper comes in pounds and points. Points are also used to indicate the thickness of each sheet of paper. They are measured simply by using calipers to measure the thickness
The higher the number of pounds (weight), the thicker the paper. Below are some general examples of different weights of paper.
100lb: thicker, generally used to make business cards
80lb: lighter weight, generally used for poster paper or fliers
24lb/20lb: lightweight, usually the standard copier paper for everyday use
With all the different attributes to make things easier, it's important to first compare products of the same paper type and then compare paper weights.
---
Printer Paper:
Text Stock or Bond Stock
Text stock or bond stock refers to the standard copy paper used by offices for daily printing. It is found in 16lb, 20lb, 24lb, 28lb, 32lb, and 36 lb weights. It might also be called copy paper, xerox paper, or basic office paper.
Recycled Paper
You do not have to sacrifice quality when it comes to helping reduce your carbon footprint. There are countless types of high quality recyled printer paper that can be used for every kind of project. Recycled paper does not have to look recycled either! It comes in a variety of shades and feels as fine as non-recycled paper.
---
Printer Paper: Various Sizes
All types of paper can be found in a variety of sizes. Below are the common sizes used, but keep in mind that most multifunction printers can handle a much wider variety:
Letter: 8.5×11 inches
Legal: 8.5×14 inches
Tabloid: 11×17 inches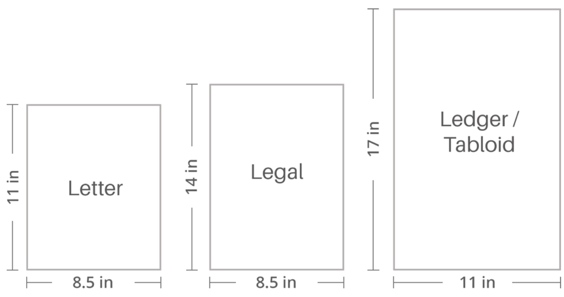 Overall, taking a little extra time to pick the right printer paper will yield the best results.
---
Standard Paper Sheet Sizes (in North America)
Common sizes of sheet paper known as North American sheet sizes are used throughout the printing industry in the United States, Canada, and Mexico.
Standard Parent Sheet Sizes
Parent sheet sizes are the large standard sheets which are then cut into smaller sheets. The majority of bond, ledger, writing, offset, book, and text papers are available in one or more of these sizes:
17×22 inches
19×25 inches
23×35 inches
25×38 inches
Standard Cut Sheet Sizes
The North American cut sheet sizes are so familiar that even users in other countries are familiar with them. They are frequently mentioned in software programs and are familiar to most people within the workforce. These are the three common cut sheet sizes:
8.5×11 inches (letter)
8.5×14 inches (legal)
11×17 inches (tabloid/ledger)
---
How Paper Weight Affects Printing
Paper weight has a tremendous impact on the quality of the finished product. It can affect things like:
Perception of quality or formality. Heavier papers tend to feel more luxurious in the hands, evoke a sense of higher quality, and suggest more formality.
Ease (or difficulty) of use. Heavier paper weights may be more troublesome if they are being folded or stuffed into envelopes.
Double-sided printing. Lighter paper weights may be more transparent, allowing double-sided printing to show through and muddle the clarity of the page.
Print speed. Heavier papers may result in reduced printing speeds or increased jams if the printer is not configured correctly. That may be a problem if fast printing is needed for an office.
---
Printer Compatibility: How to Identify the Best Small Business Printer for Heavier Paper Stocks
Printing with heavier weights can unlock new dimensions for printing in an office. However, just because a small business printer can print, scan, and copy, it does not mean it is designed to handle weights far beyond the range of bond stock. Unfortunately it is not a one size fits all situation when it comes to printer paper and small business printers.
To identify a good small business printer for heavier paper stocks, look for:
1. A Printer Rated for Heavier Stocks
Modern business printers usually indicate whether or not they are designed to handle heavier papers. If it does not mention anything about card stocks or heavier paper weights, it is safe to assume the device is meant for standard copy paper and not much else.
2. Front or Back Feeding
An enterprise-level multifunction printer will often have a unique feed path dedicated to thick or specialty papers. It will usually be a front or back feed, meaning that the paper tray will stick out a little when it is loaded. A dedicated feed path ensures that the paper will not get folded, which can prove more damaging to heavier paper weights.
3. Adjustable Settings
A small business printer designed to handle a variety of paper sizes, weights, and stocks will come with adjustable settings. Take a minute to look through the printer's settings to determine if it is meant to handle variable paper types.
---
Specialty Types of Paper – Production Equipment
Specialty papers such as bristol stock and tag stock, which is usually heavier with more unique finishes, will need to be printed on production equipment.
Bristol stock
It's drawing paper that is pasted to form multi-ply sheets. It provides a stiff, strong surface to work on without the need for mounting. It has a fabric-like feel and generally, there are two types of surfaces: smooth and vellum. Bristol stock is used for formal occasions and sometimes certificates. It is found in 67 or 120pound weights.
Cardstock
Generally, a thicker, more durable paper than normal writing or printing paper, but is thinner and more flexible than other forms of paper. Stiff, heavy paper from which business cards or similar materials are made. It is found in 50, 80, 90, 120, and 130pound weights.
Index stock
Index stock differs from cardstock in that it often lacks the protective coatings found on cardstock (like those that make business cards shiny), making it not as thick as cardstock. It's a durable workhorse at most commercial printing companies. It is found in similar weights as card stock (50, 80, 90, 120, and 130pound weights).
Tag stock
Tag stock is a thick, stiff, utility-grade card stock designed for making signs or product tags that will see heavy use. It's tear-resistant and can stand up to frequent handling and bending. It is available in 100, 150, and 200pound weights.
---
Get the Right Small Business Printer for the Job with RJ Young
Today's printing market offers a variety of options to assist businesses with delivering an impactful and professional presentation in their printed documents. By choosing the right small business printer, a company can create quality print jobs, with the help of various paper stocks and weights.
Choosing the best printer for a small business can be a chore – with RJ Young as a trusted partner, it is not. Contact RJ Young today to discover your best options.