Choosing the Best Office Small Business Printer Can Modernize Business
Posted on February 18, 2021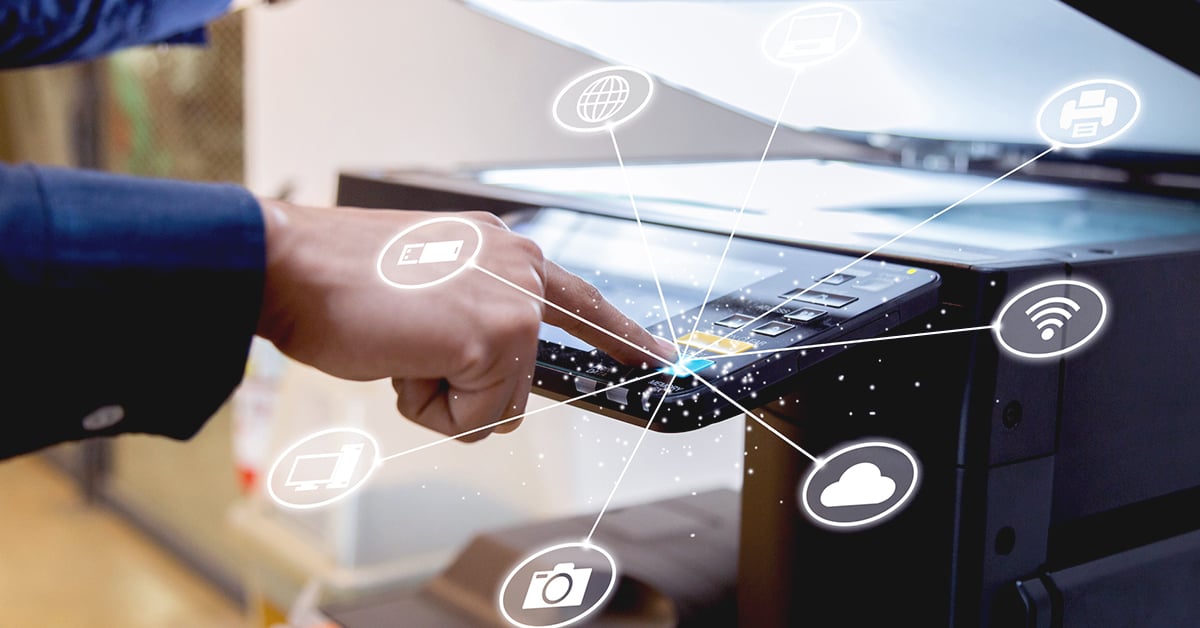 In today's unpredictable economy, running your small or medium-sized business (SMB) efficiently is essential to develop — or maintain — a competitive edge.
For many businesses, this is most easily accomplished by embracing modern office technology solutions. Modernizing these aspects of your office's environment can help remove productivity-reducing bottlenecks, promote collaboration, and provide a host of other benefits, including:
Simplifying business processes

Eliminating overhead and focusing investments on areas of highest ROI

Enhancing

security for your sensitive data

Improving responsiveness and c

ustomer satisfaction

Ensuring technology synchronization and optimization
Adopting vetted technologies and providing cutting-edge equipment can ensure your team has the tools they need to improve work quality and output— and have your customers coming back for more.
Today's modern offices are being reimagined at a fast pace to keep up with the changes brought about by the ongoing COVID-19 pandemic — from continued reliance on typical office spaces to the addition of home-based or remote offices to connect work-from-home staff with colleagues.
At the core of the efficient small business office?
A state-of-the-art printer.
The Best Office Small Business Printer for Your Modern Office
Technology is advancing at a rapid rate, and today's printers and copiers are no exception.
Among the many advantages of updating your office printer are lowered costs for energy, supplies, and overall ownership as well as better compatibility with current software. Maybe most importantly, at home accessibility.
Newer technologies bring the modern office a wide selection of features and benefits. This allows you to outfit your office with a device that perfectly matches your business' specific needs and challenges.
How Multifunction Printing Devices (MFPs) Add
Value to Your Modern Office
For many small offices or remote workspaces square footage is at a premium.
The last thing you need is for your available space to be reduced by a full-size copier, scanner, fax machine, and printer. And yet, your staff will require access to one — or all — of these devices to remain productive in a typical workday.
In this scenario, a multi-function printer (MFP) is the best office small business printer choice.
MFPs are all-in-one devices that combine the features of all four devices into a small footprint occupied by a single device. Today's cutting-edge technology allows you access to document workflow features, high-level data security, mobile and duplex printing, and even software integration.
A Step Further: Choosing Your MFP
While MFPs offer versatility by combining functions, there is still one big decision to make: Should you invest in an inkjet or laser model?
What you choose will depend on the type of printing your office typically encounters.
For example, if your team has a consistent need for high-quality color printing on multiple paper types, your office will be better served by an inkjet MFP that can put the power of photo-quality images at your fingertips.
On the other hand, if your needs center more on the crisp, black-and-white text and rapid, high-volume, or double-sided printing then a laser printer will be the best option to help your office stay productive and on target.
RJ Young Provides Print Solutions for Every Small Business
Businesses come in a variety of sizes, each with needs and challenges that are specific to their area of focus.
When choosing to upgrade or modernize your office space, you want access to the widest variety of state-of-the-art office equipment so you can match your printer to the job you need it to perform.
Finding the best printer for your needs is a process. You must consider your current infrastructure, your budget, and your staff size and location alongside myriad other considerations so you can make a decision that will provide the greatest return on your investment.
"At RJ Young, we not only have a huge selection of printers, copiers, scanners, and multi-function devices, but we have a team of knowledgeable experts on staff to assist you in making the best choice for your application," said Tracy Gibbs, RJ Young Major Account Representative.
We also provide service, maintenance, and supplies to support your team far beyond the initial purchase so you can concentrate on what is most important — keeping business running smoothly!
Modernize your office with cutting-edge technology. Touch base with an RJ Young consultant and discover how our wide range of technologically advanced office equipment can serve you today.