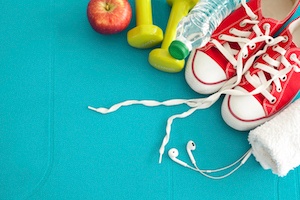 It's the New Year and time for making declarations that will lead to a better you! One of the most prevalent resolutions heard over the water cooler, after a holiday season filled with eating, drinking and merrymaking, is to get in shape and drop those last few pounds.
With 50% of Americans making New Year's resolutions, and 25% dropping them only seven days later, here are a few promotional items that can help you spur on the excitement and desire to get fit in the coming year, while keeping your brand and budget top of mind.
Fitness & Activity Tracking Devices
Keep pace with progress, monitoring calories burned, activity duration, steps, distance and sleep. Wearable fitness and activity tracking devices can be attached to wrists or clip on and are easily compatible with IOS and Android Bluetooth phones.
Gym Bag
Carry all necessities in a bag designed to hold shoes, towels, water bottles and accessories for your workout. Gym bags are available in a variety of materials, handles, straps and closures so you can find the right bag for your brand.
Fitness Mat
Keep up your yoga, Pilates and ab workouts anywhere—outdoor, on the floor or while you travel with a fitness mat. Lightweight options with carrying cases come in multiple colors for imprinting.
Water Bottle
Keep hydrated throughout workouts and activities with water bottles to meet all needs—from aluminum to a variety of BPA-Free plastics, to screw on tops and flip tops and 12oz.-24oz. and larger.
Gym Towels
Whether on the court, on the links or finishing a run, a gym towel is a necessity while getting in shape. Towels can clip on bags or even comfortably hang around your neck during a work out, and come in a variety of sizes, colors and fabrics.
Let us keep your promotional products, budget and brand in shape this year.